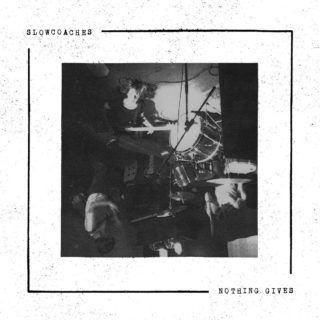 Slowcoaches
Nothing Gives
7/10
'Nothing Gives' elicits the same kind of angry optimism that was evident in a lot of bands during punk's epoch: take the happy/sad disparities of The Buzzcocks' music and lyrics, for example – it's a quality that's enduring for all the same reasons the first time around: being angry is far more rewarding when you're having fun with it.
There's also a lot to be said of a band who negate trivial subject matters in order to expose their own anxieties. On the surface, 'Nothing Gives' is your typical, high-energy punk album. Frontwoman Heather Perkins spits out her words furiously, while simultaneously retaining a quality in her voice through the occasional cracks that at times sounds both vulnerable and aloof. It's not always about your average grievances, though. Love and loss still loom large, but the theme of despondency runs throughout, and its playful exterior prevents the album from ever sounding bleak.
Having suffered from severe anxiety and panic attacks from the age of 7, Perkins finds comfort in playing "really fucking noisy music", with Slowcoaches' live shows being a cathartic experience for her. It's a facet that's managed to translate onto record, and despite subjects dealing in break-ups and breakdowns, and drug induced mental illnesses, it's musically upbeat. It often denotes hopefulness far more than despair, in fact, resulting in an album that's deceptively optimistic despite its existential themes.
The subject of mental health is dealt with admirable, clumsy authenticity as opposed to the rose-tinted sentimentalism of a lot of songs that portray anxiety and depression. Take the paranoid cynicism of 'Drag', for example – for all its irritability there's a familiar feeling of relief in Heather's voice. It's this kind of honesty that makes 'Nothing Give' sound like the perfect punk album for a generation of dejected but hopeful twentysomethings.
Simplicity is the key here, but this record is not without its subtle idiosyncrasies. 'Ex Head' is a perfect example of poppy, accessible punk with substance, and the dirgey 'WSH' represents everything Slowcoaches do best: happy nihilism that's not afraid of being confrontational. Elsewhere, album pinnacle 'Raw Dealings' exposes the band's melodic instinct that triumphs over anything else.
Overall, 'Nothing Gives' exhibits everything that's great about loud DIY music.
It's frantic, sloppy but accomplished, and it belongs in a live environment. It just happens to work very well on record, also. Slowcoaches aren't creators of anything singular, but genuine frustration is a welcome aspect in a world where, now more than ever, we have so many reasons to feel angry. For all its indignation, however, 'Nothing Gives' is more life affirming than you think.
Free Protomartyr flexi disc with this month's magazine
Subscribers to Loud And Quiet now receive a limited edition flexi disc of a rare track with their copy of the magazine
This month's disc is from Detroit punk band Protomartyr