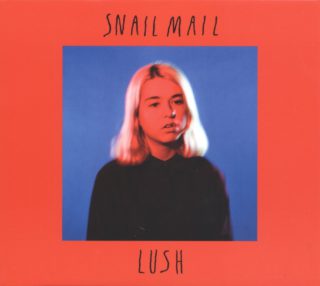 'Lush', the ten-track debut album by Baltimore-born Lindsey Jordan, could quite easily score a coming-of-age cult classic, or, at the very least, act as the perfect backdrop for a scenic and melancholic drive home. The classically trained indie musician, otherwise known as Snail Mail, here dreamily crafts dripping shoegaze charm and cutting lyrics to precisely narrate – and soundtrack – the pains of adolescence.
With all the summery dream pop charm and vocal power of the likes of Japanese Breakfast and Fazerdaze, and the DIY, bedroom-recorded innocence of the earlier Frankie Cosmos releases, Snail Mail is effortlessly on trend without being derivative. French horns, twinkling guitar hooks and cathartic lyrics ('Don't you like me for me?' and 'If you did find someone better I'll still see you in everything for always, tomorrow, and all the time' are my particular favourites) allow Jordan to flawlessly and inimitably capture all the self-consciousness and raw emotion of a teenager in love, or, as the case may be, in heartbreak.
Best of all is that this 18-year-old's debut carries no trace of the childishness, schmaltz, or irritating precociousness that is so evident in the music of some of her contemporaries.