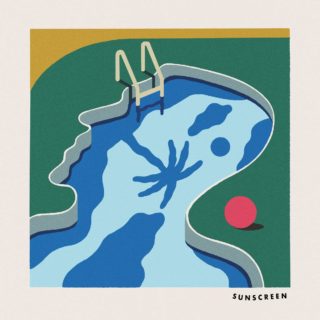 Some Bodies
Sunscreen
(Funnel)
7/10
Look out the window and you'll see a face-shaped swimming pool with all the conjectural warmth of David Hockney's California. The opening bars of 'I'm Tired All The Time' from Bristol five-piece Some Bodies comes in with lashings of slow Indiana soul, crested by a voice that sounds like Salad Fingers on a smooth wave of doo-wop harmony. The voice laments its own existentialism, looks into booking an appointment with a celestial therapist, and then muses about the many ways they could break into their house instead.
That's about as normal as Sunscreen gets. For the most part, it's playing frisbee with the surreal crooner rock that's jumpstarted the ignitions of the Connan Mockasin crowd. The ecstasy-smoked 'Silver Screen' is a slowly lolling trip over a television, thick with stories of plasticine skies and shiny-skinned people, before the punchline strikes in 'Higher Self', literally being blinded by the quest of finding themselves: "I was looking to the sky for my higher self, but the sun was in my eyes".
Each spoof-sultry riff subtly draws out a hollow and love-struck longing underneath, and that's why it works. You don't listen to Alex Cameron and think he's genuinely looking for love with the fraudulent Nigerian princes he chats up online. There's a melancholy to 'My Name' that gets a little dragged out with an outro blending feedback and cartoon laughter, but everything before plays like Foxygen being booked in for the slow dance instead of the roller disco. It's an unhurried, infectious and boundless cynicism that plays through all ten tracks of this debut, right to the last song, which is called 'Last Song'.
Free Protomartyr flexi disc with this month's magazine
Subscribers to Loud And Quiet now receive a limited edition flexi disc of a rare track with their copy of the magazine
This month's disc is from Detroit punk band Protomartyr