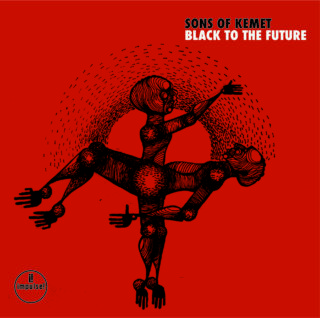 Sons of Kemet
Black to the Future
(Impulse!)
8/10
"My revolution rides a black horse, and it is stunning!" exclaims guest poet Joshua Idehen barely 2 minutes into Black to the Future. "We are rolling your monuments down the street like tobacco, tossing your effigies into the river," he continues, indignantly, over tumbling drum fills and squalls of sax, and the effect is a combined sense of unease, resistance, desperation and celebration of Black protest, both righteous and insistent. It sets the tone for the rest of the fourth album from Sons of Kemet, which swings between exultant skank and soulful melancholia (and occasionally mixtures of both) while incorporating in its first half an array of bilious guest rappers and poets into the now trademark Kemet sound: rasping reeds above earth-rattling sub-bass tuba, and a double-percussion pincer movement tight like a rottweiler's jaws.
However, while the guests are sporadically compelling – in particular Kojey Radical's urgent growl on 'Hustle' – the record works best when the instrumentalists are left to their own devices on side two. 'In Remembrance of Those Fallen' is agitated and fidgety, the band seemingly in constant dialogue with themselves, but also yearning and outward-looking, and 'Let the Circle Be Unbroken' offers engulfing and expansive texture that's no less narrative or rabble-rousing than the earlier vocal-led pieces. It makes for not just music that's impossible to sit still to, but also a series of provocative expressions whose spectrum of silky clarinet to hard-blown sax are genuinely evocative of life in 2021 – the music of thoughtful, angry, empowering, frustrated and cathartic dissent.
Loud And Quiet could do with your help
We love making Loud And Quiet – our magazines, this website, our podcasts and more – but it's become increasingly difficult for us to balance the books.
If you're a reader who'd like to help us keep the show on the road, please consider becoming a Loud And Quiet member. There are options to receive our physical magazines and lots of other extras that are exclusive to our supporters.