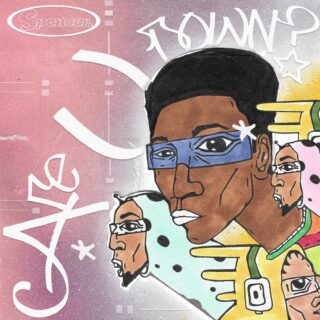 Spencer.
Are U Down?
(4AD)
7/10
Spencer Miles Abraham Allen's parents gave him his middle name after none other than jazz master Miles Davis. It's a big name to live up to – but, thankfully, the young New York City-based singer, songwriter and producer clearly has an understanding of his craft. Learning trumpet from the age of four, studying jazz at summer school as a teen, all while listening to the likes of Erykah Badu and D'Angelo, Spencer would start to gain traction releasing his own music from his parents' basement. On this, his debut album, he makes a lush kind of soul that shifts and swoons, sitting in the school of hearts-on-sleeve Gen Z raconteurs (think Steve Lacy and Omar Apollo), while his vocals nod to the smoothness of Musiq Soulchild or, occasionally, Frank Ocean. Like Ocean, there's a lightly experimental bent to Spencer's sound too (this is out on 4AD, after all). The tracks can bleed into each other, with songs sometimes feeling like motifs of moods rather than fully-formed moments: take the striking beauty of 'staywmecassette', a slow dance which builds to crunchy, skittering crescendo before cutting off suddenly. 
The album explores romance, and though there's a simplicity to the lyrics, they capture all the thrills, excitement and sauce of love and attraction ("I could take you out to eat, then eat you up for dinner") combined with the insecurity of it ("I bet whenever it's over, when push comes to shove, that you'll drop me"). Overall, it's a rich and promising debut. 
Subscribe now. Cancel anytime
Go on, give us a go
We love making Loud And Quiet – our magazines, this website, our podcasts and more – but it's become increasingly difficult for us to balance the books.
If you're a reader who'd like to help us keep the show on the road, please consider becoming a Loud And Quiet subscriber. There are options to receive our physical magazines and lots of other extras that are exclusive to our supporters.