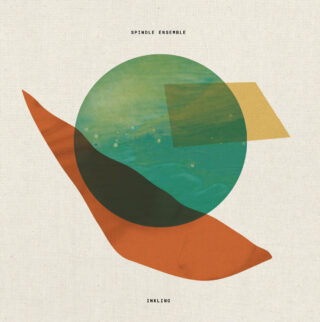 Spindle Ensemble
Inkling
7/10
So much of the neo-classical tag has become made-to-order in recent years, meaninglessly attached to wordless releases as gravitas for gravitas' sake. But that's not to say the genre needs a reclamation more than it does a revaluation, and Bristol-based contemporary chamber quartet Spindle Ensemble feel well placed to exile the poor cousin beyond the generalisation. Led by composer and pianist Daniel Inzani (Yola, Alabaster dePlume, Tezeta) and featuring an underground A-list line-up of tuned percussionist Harriet Riley (Charles Hazelwood's Paraorchestra, Bristol Symphony Orchestra), cellist Jo Silverston (Mesadorm) and violinist Caelia Lunniss (Edward Penfold), Spindle Ensemble's second full-length album Inkling is a communal affair, celebrating the completeness of individual sound, its potential to dance among its surroundings and improvise with what's there.
The auditory experience is this record's greatest success, beyond any compositional work at play. Recorded at various churches around Bristol using the Blumlein method – a stereo recording technique where a pair of vintage microphones recreates the ideal spatial characteristics of a room – Inkling is a transportational listen. Every instrument feels entirely isolated and yet at ease with one another, as if we were listening to a conversation between friends rather than a pre-made recital. From the dewy vibraphone that ushers in the title track to the bass-heavy marimba that builds and stalls the pace of 'Chase', or the Spaghetti Western, Morricone-indebted electric guitar on 'Okemah Sundown' to the gallant strings on 'Waves'; every note is alive. The minimalist joys of Elpmas-era Moondog and Steve Reich's Sextet are transformed into pure maximalist cinema, on even the sparsest of closing tracks.
As live music nervously becomes a part of our possible existence again, Inkling is the acoustic equivalent of slowly adjusting to the sea's temperature before being submerged. It's grounding more than it is groundbreaking, but a captivating listen that welcomely reminds of contemporary classical's breadth. 
New monthly memberships available
Here's a new thing: our membership scheme now has a pay-monthly option, plus a load of exciting new digital stuff for people who support what we do. It's actually excellent value, honest, and will help us continue to promote new independent artists and labels.
Sign up and you'll receive our physical magazines delivered to your door, our digital editions, exclusive podcasts and playlists and access to our EXTREMELY glamorous Members Lounge. You'll be the envy of all your friends.