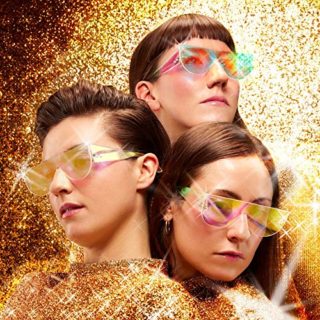 We're all living in perpetual boredom and only with access to an endless supply of consumable content are we truly satisfied. For the past three years, Liverpool's all-girl three-piece Stealing Sheep have been pondering such an impatient habitual nature, and on their third album, Big Wows, they try to map out our machine co-existence through more than just a confused face emoji.
Big Wows is heaving with the sort of bold neon pop production that's symbolic of the information overload we like to cram into our brains on a daily basis. Each track is a well-woven mesh of sharp synths, cyber sung vocal harmonies and thumping rave percussion. During the music video to lead single 'Joking Me', each member features as their own pixelated avatar in a distinct image of the kind throwaway digital culture Big Wows consistently refers to.
Stealing Sheep's admiration for electronic music pioneer Delia Derbyshire remains apparent throughout. Engineered mainly through sequencing and drum machines, Big Wows humanises each robotic motion giving definite life to the concept of unique computer emotion. This certainly isn't the first album dedicated to the digital universe and it won't be the last. But Big Wows provides its own relevant input to the conversation of its ever-evolving culture.
Free Protomartyr flexi disc with this month's magazine
Subscribers to Loud And Quiet now receive a limited edition flexi disc of a rare track with their copy of the magazine
This month's disc is from Detroit punk band Protomartyr