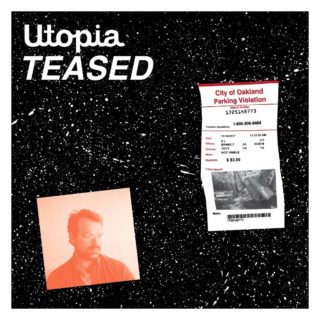 Stephen Steinbrink
Utopia Teased
(Melodic)
8/10
In December 2016 a fatal fire broke out in the Ghost Ship warehouse in Oakland, California. The warehouse was home to an artistic collective informally known as Sata Yugya, and on the night around fifty people were in the building to watch a host of house acts. Thirty six people died in the tragedy, including a friend of local DIY musician Stephen Steinbrink. In the months that followed, Steinbrink stayed locked away in his studio, taking LSD and writing and recording around the clock. The resulting album, 'Utopia Teased', works through his overwhelming feelings of loss with surprising lightness.
The album's beating heart is the idea that most people are made up of other people, that we are all pieces of one another. The spaced-out 'A Part of Me is A Part of You' tackles the pain this causes in romantic relationships, while 'I'm Never Changing Who You Are', the record's wounded closer, finds peace in resigning yourself to the state of things as Steinbrink sings 'I only got the time I've got, and I'm not spending it in pain.' Similarly, the bubbling, acoustic 'Mom' dreams of childhood contentment and safety, and is the most tender point on an album brimming with it. 'Zappa Dreams' is almost as sweet, Steinbrink's version of Rosie Steffy's original spinning into psychedelia in a way that is (probably) only partially down to all that LSD.
Born as it is from grief, 'Utopia Teased' still glimmers with life.
Free Protomartyr flexi disc with this month's magazine
Subscribers to Loud And Quiet now receive a limited edition flexi disc of a rare track with their copy of the magazine
This month's disc is from Detroit punk band Protomartyr