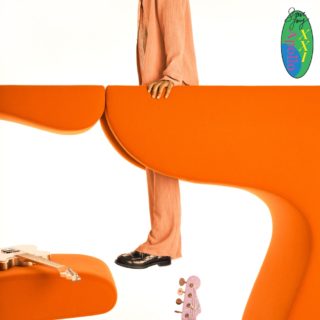 Steve Lacy
Apollo XXI
(3QTR)
6/10
"I just want to relate to everyone," confesses Steve Lacy in a spoken aside, two minutes into his debut solo album. On the one hand, that shouldn't surprise – after all, The Internet's guitarist and producer wonderkid has recently made records with acts as diverse (and populist) as Vampire Weekend and Kendrick Lamar, and despite his upbringing in gangsta-rap heartland Compton, he has repeatedly emphasised his appreciation of knotty indie-rock, funk, and psychedelia in interviews, most recently explaining new single 'Playground' as "my Prince phase – but I also have my Dirty Projectors phase in there too". On the other, though, such eagerness to please rather jars with Lacy's established personality as go-it-alone maverick led by nothing but instinct and the iPhone on which he famously records: in that context, it's difficult to imagine him considering his latest creation and wondering, "how can I pick up fans of Tame Impala, Kaytranada, Curtis Mayfield and bluegrass fiddle?"
And yet that's pretty much what 'Apollo XXI' shoots for: 'Only If' opens the album with a beautifully soulful melody and groove as effortlessly seductive as the Isley Brothers, 'Love 2 Fast' suggests more than a passing familiarity with John Lennon's solo albums, and the hard-knocking percussion alongside groggy synths of 'Basement Jack' evoke the pealing futurism of Flying Lotus. The nine-minute, four-parter 'Like Me', too, which finds Lacy pondering the social ramifications of his recently announced pansexuality, shows love for (perhaps appropriately) a myriad of styles, flipping from psychedelic soul to banging RnB to gossamer guitar jazz-funk lullaby.
Then, capping it all, the instrumental 'Amandla's Interlude' features Hunger Games actress Amandla Stenberg busking a folksy violin line that's warm, homespun and scratchy like an old jumper. It's completely nonsequitous but strangely charming.
Amid the genre splat, though, there are also some unequivocally brilliant flourishes of songwriting so compositionally pure that you sense they could work in any style: 'Playground', a proper summer jam with chewing-gum bass and wacka-wacka guitars, is the best thing here, and the ratatat drums and melodic sparseness of 'Guide' suggest a hardcore punk song in another life. Equally, 'Hate Coming Down' has an almost Smithsian melancholy to it in this incarnation, but it's no huge leap of the imagination to hear Beyoncé singing it either.
It all makes 'Apollo XXI' an intriguing statement, albeit a flawed one: as a scrapbook of a record, and glimpse into Lacy's voracious musical appetite, it's fascinating. However, with any conceptual or musical throughline sabotaged by an overabundance of underdeveloped ideas, the overriding sense as the record finishes is one of confusion and frustration. Lacy has undeniable natural talent; the lasting impression of 'Apollo XXI' is that now the 21-year-old has to learn his craft.
Please support Loud And Quiet if you can
If you're a fan of what we do, please consider subscribing to L&Q to help fund our support of new musicians and independent labels
You can make a big difference for a few pounds per month, and in return we'll send you our magazines, exclusive flexi discs, and other subscriber bonus bits and pieces
Try for a month and cancel anytime