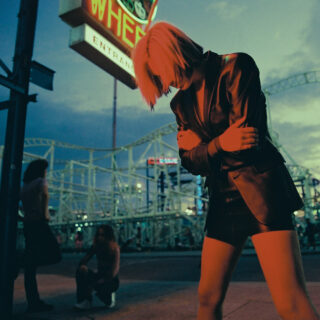 Sunflower Bean
Headful of Sugar
4/10
Some really nice sounds scatter Sunflower Bean's third studio album: a crystal-clear guitar strum is muddied by diaphanous backing vocals, steadily coming-into-focus on 'Who Put You Up to This?', low-slung grooves buoy against reed-like synths in 'Stand by Me', while vocalist and bassist Julia Cummings' chorus in 'Roll the Dice' recalls her incredible feature on Yves Tumor's Heaven to a Tortured Mind. The band's production has never sounded better than on these 11 tracks, but its composition and over-reliance on mimicry still hit the same potholes that their debut album Human Ceremony and follow-up Twentytwo in Blue wilfully sunk into.
More than before, Headful of Sugar feels desperate to paint Sunflower Bean as New York's misfits, campaigning against the city's uber-cool indie scene one run-of-the-mill rock'n'roll song at a time. "Nothing ever changes in this town, the people die or they move out," sings Nick Kivlen on 'In Flight', sounding like a teen-flick version of Low's Alan Sparhawk before the smug punchline, "Everyone but me." 
Songs that espouse the anarchy (lower case "a") of fast living are locked in clichés, while others that thrill in stating how different they are sound custom-made for a chart run. When they attack commodity culture, it sounds like Ewan McGregor telling you to forget capitalism and book a holiday instead, to revel in your autonomy under the shade of a Radisson Blu beach umbrella. 
But while Sunflower Bean have always toyed with imitation, this time they're copying more than just Fleetwood Mac. Every style is echoed, from shoegaze to yacht rock to DIY to synth-pop, each with its own gift shop sheen. If you don't listen too hard, it's all quite enjoyable. If you do, there's so much here that three minutes might just stick.
Free Protomartyr flexi disc with this month's magazine
Subscribers to Loud And Quiet now receive a limited edition flexi disc of a rare track with their copy of the magazine
This month's disc is from Detroit punk band Protomartyr