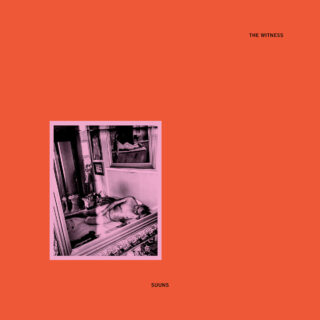 Whilst making The Witness, SUUNS sought to avoid their usual rambunctious soundscapes, swapping them for more mannered and subtle arrangements. In doing so, the group, now operating as a trio, hoped to forge a natural flow across the eight songs to make the album sound like one cohesive composition. 
Don't worry though: the Montreal-based psych-rockers haven't completely turned down the volume on their fifth LP. Instead, there's more patience and consideration applied to their performances. An immediately immersive record, the steady unravelling of opener 'Third Stream', a dense production laced with enveloping distortion, efficiently creates a listening experience in which the audience completely loses track of time, and even what track they're on. ​​Song titles like 'Timebender', suggest that this warped perception of one's surroundings while engaged with the work was always intended by the band. Furthermore, the atmosphere conjured by this displacement coupled with the overall mood of the instrumentation can lead to visions of the band jamming 'C-Thru' out in a darkened cave or 'Third Stream' on the Moon. 
The sonic contortions of Clinic are ever-present in SUUNS' latest output, as are BEAK>, Low and glimmers of Pink Floyd's 'Shine On You Crazy Diamond'. Amidst their anchoring Krautrock influences, the group introduce jazz sensibilities with gloriously bright meandering sax riffs on 'Clarity', and bring the outside world into this otherwise closed-off world via birdsong on 'Timebender'. Throughout, the tonal palette exudes sophistication. The unrushed woozy instrumentation 'Go To My Head' is utterly spellbinding, one that's difficult to step away from. Listening on headphones, especially, heightens the many intricacies and textures permeating the record. In particular, the twinkling chimes and glimmering guitars punctuating 'The Fix' are all the more rewarding when consumed with no external distractions.  
SUUNS sound at ease in these expansive arrangements. An excellent and engrossing record. 
New monthly memberships available
Here's a new thing: our membership scheme now has a pay-monthly option, plus a load of exciting new digital stuff for people who support what we do. It's actually excellent value, honest, and will help us continue to promote new independent artists and labels.
Sign up and you'll receive our physical magazines delivered to your door, our digital editions, exclusive podcasts and playlists and access to our EXTREMELY glamorous Members Lounge. You'll be the envy of all your friends.