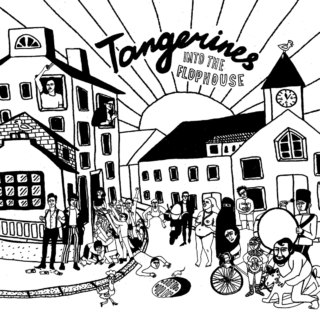 Tangerines
Into The Flophouse
(RIP)
5/10
London band Tangerines have pretty clear influences. There's the Rolling Stones swagger and Bob Dylan vocal, and the T-Rex guitar that is fittingly clearest on their track 'Glam Glam'. 'Into the Flophouse' could be a 21st century reimagining of 'Exile on Main Street', seen through the lens of all the rock and roll icons of the last fifty years. The problem, of course, is that there's a line between being complementary and being derivative, and Tangerines have stepped a bit too far across it.
There are moments of promise, and they're a band with a sense of humour, too. 'Glam Glam' is laid back and summery with a rich bass line, while the pogo rhythm and '70s style guitar work on 'Uptight' lets the band show off their technical skills. 'Lovers Night', too, dances with cheery guitar riffs, before losing the thread. Two and a half minutes in, the track descends into disarray as the instruments fall out of sync. Tangerines are continuing the great rock and roll swindle, but they should remind themselves that people are getting wise to the con.
We're not being funny...
… but can you become a member please?
It's actually excellent value, and will help us continue to promote new independent artists and labels.
Sign up and you'll receive our physical magazines delivered to your door, our digital editions, exclusive podcasts and playlists and an actual bookmark, as if printing a magazine in 2021 wasn't old fashioned enough.
6-month and full year memberships are available now. Fancy it?