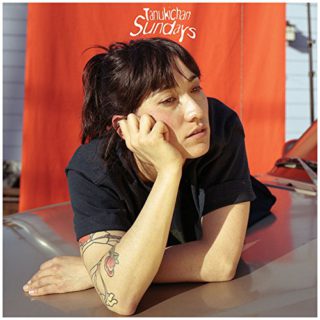 If there was any doubt about Hannah Van Loon's musical change of direction since leaving indie poppers Trails And Waves, it's washed away with the first thirty seconds of her debut album as Tanukichan. The overload of fuzzed-out guitar coupled with the power riffs that crop up throughout 'Lazy Love' sets 'Sundays' down a path that it rarely veers from; heavy on the reverb, treacle-thick rhythms – songs that have the weight of a humid, late-summer afternoon. "I settled on the name because it encapsulates how the record felt to me," she's said, and it's true; a relaxed, reflective vibe runs through all ten tracks.
But the multi-instrumentalist doesn't simply plug in a Big Muff and turn the gain all the way up; there's restraint here too, perfectly framing her angelic voice and bittersweet lyrics about dealing with reality and growing as a person. 'The Blue Sky' is a hauntingly delicate slow jam, while 'Perfect' sounds like a C86 deep cut updated for Millennials. They showcase Van Hoon's neat way with elegant melodies, but she's most at home when her guitar buzzes around like a tropical breeze. Of course, hazy tones are back in fashion now, but Van Hoon employs them in a way that suggests she's looking to the future, not stuck in the past.
New monthly memberships available
Here's a new thing: our membership scheme now has a pay-monthly option, plus a load of exciting new digital stuff for people who support what we do. It's actually excellent value, honest, and will help us continue to promote new independent artists and labels.
Sign up and you'll receive our physical magazines delivered to your door, our digital editions, exclusive podcasts and playlists and access to our EXTREMELY glamorous Members Lounge. You'll be the envy of all your friends.