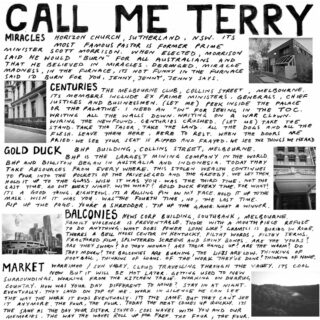 "Terry isn't afraid to call the shots and Terry isn't afraid to point the finger," says this album's promo material. "Listen to what Terry has to say." 
Who the hell is Terry, though? This mysterious Australian voice has been outspokenly calling attention to all the flaws in the social and political system of his country ever since the release of his debut EP in 2016. He has done this by having an impeccable sense of style, music that is incredibly sincere, and a compelling mystery surrounding his identity. The mystery is working – for a start, we're referring to a four-piece band as 'he'.  
The latest instalment of this conundrum, Call Me Terry features handwritten artwork that includes images of buildings and landscapes from Melbourne and New South Wales adjacent to what initially appears to be only lyrics. If you pay close attention, you will see that the actual songs are preceded by captions describing the type of political fraud that location sponsored. Although you won't hear those exposés in their songs, you will be completely taken in by their psychedelic indie-pop, which is garnished with the rawness of a practice band and creates a rich, long-missed sound where synth and strings abide by the adage that less is more. And more it is.
Free Protomartyr flexi disc with this month's magazine
Subscribers to Loud And Quiet now receive a limited edition flexi disc of a rare track with their copy of the magazine
This month's disc is from Detroit punk band Protomartyr