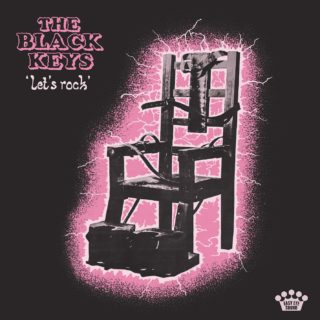 The Black Keys
"Let's Rock"
6/10
Without wanting to downplay the severity of the injury, maybe the wave that sent Patrick Carney from his surfboard to the ocean floor just after new year in 2015 was a case of divine intervention.
After all, The Black Keys were evidently in need of a break. The Akron duo had found themselves elevated to arena status, in part by accident and in part by design; Brothers, the 2010 LP the marked their mainstream breakthrough, began a move towards a more commercially viable sound that 2012 follow-up El Camino accelerated, with its gaudy stylings and festival-ready singles. Not wanting to allow their momentum to wane, the band continued to work at a ferocious pace, turning out another album, Turn Blue, in 2014 and lining up another extensive tour. By the time Carney dislocated his shoulder – about the worse injury a drummer could sustain – The Black Keys hadn't had any real downtime for a good five years.
You could tell, too; Turn Blue sounded thin, tired and devoid of new ideas. El Camino's singles had reached an irritating level of ubiquity. Brothers already felt like a long way in the rear-view mirror and that meant that Attack and Release, the last Black Keys album to really zero in on the aggressive, bluesy swagger that had always characterised their best work, was even further in the past. There is, unfortunately, a compelling argument to suggest that the nearest anybody, including the band themselves, have gotten to that old-fashioned Black Keys strut in the past decade is Bradley Cooper with that song from the opening scene of A Star Is Born.
That's an observation that likely won't have cheered either the always-outspoken Carney or singer Dan Auerbach; both admit that they were not getting along by the time Carney's shoulder effectively forced a hiatus. The good news about "Let's Rock" (presumably a nod to Twin Peaks, given the closing track is called 'Fire Walk with Me') is that, in parts, the pair have reclaimed the down-and-dirty riffery that made Thickfreakness, Magic Potion and Rubber Factory so compelling.  Opener 'Shine a Little Light' is a belligerent statement of intent. Auerbach's guitar crashes across a gospel choir on 'Lo/Hi's huge chorus. 'Go' feels like an airier cousin to 'I Got Mine', or 'Set You Free'.
The standouts offer glimpses of classic Keys, but "Let's Rock" runs at twelve tracks in length and the band were no doubt aware that there is a fanbase reared on this decade's output to keep happy. It's for that reason that we get just as many descents into middle-of-the-road territory – the stodgy 'Walk on the Water' is a case in point, as is the soft near-balladry of 'Sit Around and Miss You'. That Twin Peaks-referencing closer, meanwhile, is a jaunty effort that channels El Camino and that surely wouldn't have been considered anything like jaunty enough to secure them a spot at the Roadhouse during The Return.
Still, if nothing else, the electric chair adorning the album's cover feels like a fitting metaphor; they do sound as if the time away has given them a bit of a jolt. There's few new ideas, but plenty of fresh energy.
New monthly memberships available
Here's a new thing: our membership scheme now has a pay-monthly option, plus a load of exciting new digital stuff for people who support what we do. It's actually excellent value, honest, and will help us continue to promote new independent artists and labels.
Sign up and you'll receive our physical magazines delivered to your door, our digital editions, exclusive podcasts and playlists and access to our EXTREMELY glamorous Members Lounge. You'll be the envy of all your friends.