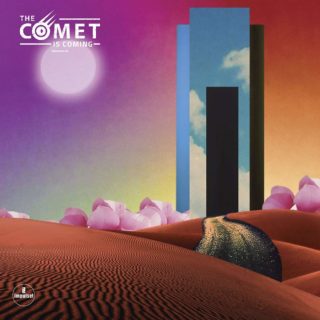 The Comet Is Coming
Trust in the Lifeforce of the Deep Mystery
(Impulse!)
9/10
Both the title of The Comet is Coming's second LP, reading like the work of an online Sun Ra album name generator, and its release on Impulse! – home to such luminaries as John and Alice Coltrane, Pharoah Sanders and Mr Ra himself – might combine to signify it as another chip off the old (and increasingly fashionable) block of revisited cosmic jazz. However, characterising 'Trust…' as a straightforward album of throwback blustery sax drones and spaceborne wistfulness would be a category error; instead, Shabaka Hutchings, alongside keyboardist Dan Leavers and drummer Max Hallett, have conjured an album as much in love with grime, punk rock and G-funk as it is with the textural longing of classic spiritual jazz, and the result is a wonderfully bracing, forward-facing melting pot.
Accordingly, 'Birth of Creation''s striding bassline flicks spatters of dubstep, both in frequency and groove, at Flying Lotus's postmodern interpretations of soul music, while the fuggy, subterranean slink of 'Timewave Zero' gives way to clean, crisp synths, seemingly made from straight lines and neon, and then to a dancehall-imbued drum lick that almost suggests a jump-up reimagining of lovers rock. 'Summon the Fire', too, corrupts post-punk, Hutchings' sax resembling less an instrument and more the inchoate shouts of an angry lead singer, to the extent that its final minute becomes pure football chant, beery and belligerent, like Sleaford Mods trapped inside a saxophone.
And then there's the album's centrepiece, 'Blood of the Past': an eight-minute dystopian movie soundtrack featuring Kate Tempest at her most downtrodden, with Hutchings, as her foil, adopting the lazy flow of Snoop Dogg over grungy, driving synth pads. Oftentimes, a lone vocal on a record of instrumental music can be an awkward fit, but here the track becomes the album's heart, and a cipher for what surrounds it, pulling in influences from the past 60 years of countercultural music and flinging them forwards with force.
Elsewhere, 'Trust…' carries plenty of nods towards its cosmic jazz forebears, not least in the album's bookends, which swell with celestial synths, tumbling drumming and yearning, soaring sax, and on 'Unity''s pastoral cheer. But the real debt to Sun Ra, the Coltranes et al here is not how the record sounds, but the band's approach: in taking the music around them and repurposing it for something more futuristic, The Comet Is Coming have made a mini masterpiece; exhilarating, authentic and, most importantly, a joy.
Please support Loud And Quiet if you can
If you're a fan of what we do, please consider subscribing to L&Q to help fund our support of new musicians and independent labels
You can make a big difference for a few pounds per month, and in return we'll send you our magazines, exclusive flexi discs, and other subscriber bonus bits and pieces
Try for a month and cancel anytime