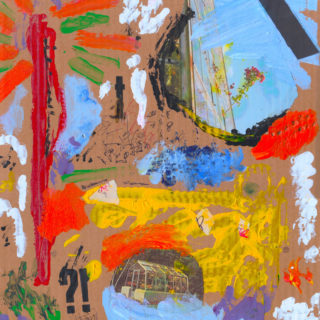 The Cool Greenhouse
The Cool Greenhouse
(Melodic)
8/10
A NOTE: LOUD AND QUIET IS IN DANGER OF CLOSING. PLEASE CONSIDER SUBSCRIBING TO OUR MAGAZINE OR MAKING A SMALL DONATION HERE. THANK YOU.
Last year, post-punk outlier Tom Greenhouse released the Crap Cardboard Pet EP, a solo venture under his Cool Greenhouse moniker. On this angular debut, Greenhouse stumbled upon a sound that was both an adequate homage to his influences, and totally novel. 
His deadpan spoken word would meet cheap drum machines and glitching organs, whilst for the full duration of very long songs he'd play the same annoying guitar riff over and over. Full of character, this is the exact kind of music designed to annoy your parents – that is, assuming that you're a character in the Beano.
Halfway between a comic book protagonist and a serious post-punk auteur, Greenhouse is a hell of a character himself. His songs are candid and sharp parodies of the middle classes, and whilst the elephant in the room is the inevitable "sounds like The Fall" detractors, Tom Greenhouse's lyrical stylings are entirely his own.
He returns for a debut self-titled album, but this time The Cool Greenhouse are a proper, full band, with two guitarists, bass, drums, and a brilliant organist. The songs are more refined, tunes no longer sprawling towards the 10 minute mark; fat cut off, but for the most part, nothing is lost. 
Album opener 'The Sticks' is a delightful chunk of zeitgeist, if only accidentally, where Greenhouse tackles the isolation of moving to the countryside. His findings: it's way more League of Gentlemen than Escape to the Country. Twin looping guitar drawls bring images of '00s Fall to mind, but a YMO-gone-rogue synthesiser propels the band's sound to somewhere far more kosmische.  
Whilst Greenhouse's modus operandi are subtle, ironic, often surreal ("Margaret Thatcher… had very dirty glasses"), parodies and allegories, he sometimes relishes the occasional on-the-nose blow. '4chan' is a sharp character assassination of the incel condition: "I ate my Christmas dinner from a can, couldn't interrupt my festive COD marathon". 
'The Subletters' is the album's closer, and best song – it's a Half Man Half Biscuit-style vignette that finds something very psychedelic in suburban normality. Tom Greenhouse's dullset delivery tells of his misfiring pursuants, the Student Loans Company. "They'd got my details wrong…" he laughs: "They thought my national insurance number AB34217 – which it isn't". He remarks of his fairground-visiting lodgers, and his all-year-round-Xmas-jumper-wearing neighbour and his conversations with the local wildlife. Brilliant stuff.
The Cool Greenhouse laugh in the face of tumult, find humour in the bleak and stumble upon the weird in the normal. Every listen reveals a new character, or a new one-liner, and this album is a hell of a lot of fun. Whilst far from a reinvention of the wheel, the band occupy a niche in the ever-saturated allegorical post-punk market that is entirely their own.
Please support Loud And Quiet if you can
If you're a fan of what we do, please consider subscribing to L&Q to help fund our support of new musicians and independent labels
You can make a big difference for a few pounds per month, and in return we'll send you our magazines, exclusive flexi discs, and other subscriber bonus bits and pieces
Try for a month and cancel anytime