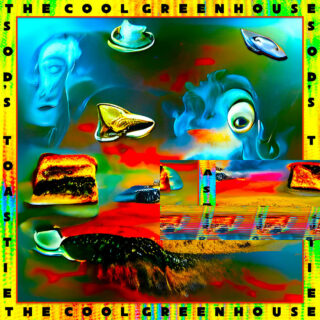 The Cool Greenhouse
Sod's Toastie
(Melodic)
8/10
In a landscape that is somewhat oversaturated, Sod's Toastie, the second album by The Cool Greenhouse, earmarks the London post-punk outfit as one of the best in their field. Charming, and genuinely hilarious, the follow up to the group's self-titled debut is a real delight. It sees the band bound into musical pastures new, whilst retaining the pervasive sense of humour that made The Cool Greenhouse an unforgettable oddity. A lot of the group's touchpoints remain the same – Grotesque-era Fall, Arab Strap, The Shadow Ring – but a renewed melodic focus enhances the group's sound twofold. 
Tom Greenhouse, the group's alien-obsessed ringleader, is front and centre of the project. His vocal stylings are sprechstimme anecdotes where the commonplace often meets the absurd. On 'The UFOs', a claustrophobic number punctuated by choppy Gang of Four guitar licks and atonal electronic noodling, a domestic scene is interrupted by extraterrestrial visitors. Meanwhile, 'Musicians' is a joyous semi-fictional origin story of the band, detailing Greenhouse's intrepid travails putting together his motley crew – beginning only with drum machine clang and angular guitar scribbles, it reaches a wild conclusion as bongos and horns sneak into the foray.
Greenhouse breaks rank and sings from the heart on 'I Lost My Head', whilst closer 'The Neoprene Ravine' sees him dream up an alien version of The Velvet Underground, complete with chugging cosmic garage-rock skronk. Sod's Toastie is fantastic, musical nous and caustic wit coming together perfectly on one of 2022's most novel post-punk records.