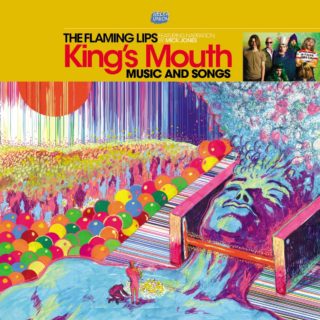 The Flaming Lips
King's Mouth
6/10
If The Flaming Lips weren't going to release an album best listened to inside an immersive art installation of a giant metal head – complete with LED lightshow inside its foam mouth – I'm not sure who else would've assumed that oddball responsibility.
Initially released as a limited-edition, vinyl-only release for Record Store Day, King's Mouth is alive with all of the psychedelic irreverence, scuzzy beats and melodious pop that's become The Flaming Lips hallmark over the years.
Opener 'We Don't Know How and We Don't Know Why' has The Clash's Mick Jones narrating in a dreamy, Ringo-esque, Thomas the Tank Engine kind of way, there's the Casio x Fisher Price beats of 'How Many Times' and the curiously-titled 'Feedaloodum Beetle Dot' with Mick popping up again over clattering percussion and a lo-fi, bassline-heavy groove.
And with Jones' narration prominent throughout, it's strange to feel that Wayne Coyne is conspicuous in his absence beyond the album's opening tracks. When he is at the forefront, though, he rises to the occasion in that dream-like way; that vocal straining ever so slightly from the back of the throat on the wistful 'The Sparrow' and the downbeat 'Giant Baby'.
None of it makes much sense but set against the album's likeably languid pacing, there's little time to dwell before you're thrust into the operatic drama of 'Funeral Parade', drift into yet more Jones-narrated story time on 'Dipped In Steel' or thrown into the apocalyptic, interstellar noise of 'Electric Fire'. Business as unusual, then.
New monthly memberships available
Here's a new thing: our membership scheme now has a pay-monthly option, plus a load of exciting new digital stuff for people who support what we do. It's actually excellent value, honest, and will help us continue to promote new independent artists and labels.
Sign up and you'll receive our physical magazines delivered to your door, our digital editions, exclusive podcasts and playlists and access to our EXTREMELY glamorous Members Lounge. You'll be the envy of all your friends.