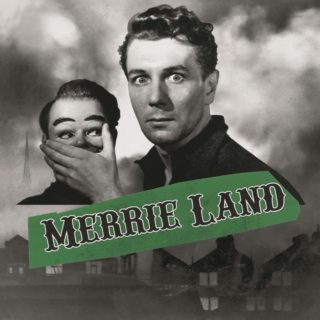 The Good The Bad & The Queen
Merrie Land
8/10
Despite his reputation as one of the great musical chroniclers of contemporary Britain, it's been twenty years since Damon Albarn last wrote a set of songs about England: after all, the late Blur albums are studies in introspection, Gorillaz is satirical meta-pop, and while the first album by The Good, The Bad And The Queen explored the murk and rain-soaked romanticism of London, it never ventured much beyond Zone 4. All of which makes 'Merrie Land', an overt comment on Brexit Britain, the people who supported it and the state in which it leaves the nation, something of a landmark in Albarn's sprawling discography as the first time in a generation that he's explored his own country. It is also the most evocative, thoughtful and moving survey of England and Englishness that Albarn has made since 'Parklife' – although, given the downcast mood, the gist is maybe more that Modern Life Is Rubbish.
Accordingly, lyrics look both forward and back, with anger, pessimism, nostalgia and realism: the title track is an alternatively mournful and bitter paean to an England undone by self-serving political vandals, 'The Great Fire' paints a picture of Brexiteers coming inland from their rundown seaside towns like an invading army, unafraid of "the deep dead fear of the yellow stars", and a list of right-wing complaints about multicultural Britain, fired off from "manicured lawns of England barricaded in the 50s" comprise the majority of 'The Last Man To Leave'. Geographically, too, the album takes place on suburban golf courses and in late-opening offies, in the "borough of Banbury", "on Preston Station" and Boston, where more people voted to leave than anywhere else in the UK, adding to proceedings a pungent sense of place, as well as time.
But 'Merrie Land' is an album, not a political pamphlet, and how The Good The Bad And The Queen choose to wrap the message in its music is just as crucial to its success as the raw content: jauntiness and gently skanking dub-infused rhythms courtesy of veteran afrobeat drummer Tony Allen and erstwhile Clash bassist Paul Simonon rub up against affably English wind arrangements, the occasional battered pub piano and, on 'Lady Boston' a stirring Welsh Choir and echoes of folk guitar, reflecting a sort of musically multicultural mingling that is, tellingly, just as representative of modern Britain as angry Brexiteers. As well as being allegorical, though, the arrangements, coupled with Albarn's undimmed ear for a keening melody, mutate the lyrics' disillusionment and fury into something more warmly melancholic and wistful. It's a useful trick: in rounding off the edges like this, 'Merrie Land' becomes far more engaging than some of the shoutier, placard-waving responses to Brexit, and simultaneously starts to represent the endearingly British quality of polite resistance.
All of which makes for an album as important or insignificant as the listener chooses: as a comment on polarised Britain, 'Merrie Land' is a relatively muted gesture, just as unlikely to turn hearts and minds as it is inspiring to those opposing Brexit. As a mirror held up to the country at a time of crisis by one of its sharpest observers, though, it's a record of note, full of intrigue, intimacy and calmly assertive, greatly needed dissent.
Please support Loud And Quiet if you can
If you're a fan of what we do, please consider subscribing to L&Q to help fund our support of new musicians and independent labels
You can make a big difference for a few pounds per month, and in return we'll send you our magazines, exclusive flexi discs, and other subscriber bonus bits and pieces
Try for a month and cancel anytime