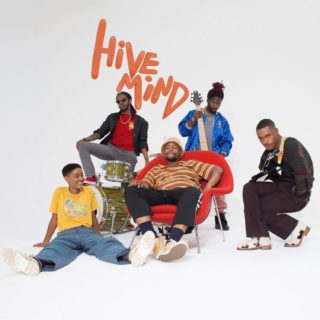 In the three years since The Internet released 'Ego Death' much has happened to accelerate their metamorphosis from Odd Future spin-off neo-soul curio to bona fide pop-RnB personalities. Following a Grammy nomination, four of the quintet have released well-received solo albums, collaborations have bloomed beyond the standard Odd Future family to include the likes of Kendrick Lamar, Sampha and Lana Del Rey, and the band's line-up has solidified for the first time, each member with a distinct role and identity. Meanwhile, shifts in both the socio-political state of the US and its musical appetites mean there has never been a better moment for a socially engaged black band led by a lesbian woman to get their voice heard.
Accordingly, there's a keen sense that The Internet's time is now, and that extends across 'Hive Mind': the band's fourth album is unapologetically ambitious both musically and commercially, resulting in a collection of songs that are leaner, sleeker and more direct than ever. Thankfully, though, despite the streamlining, the band's trademarks are largely preserved, if slightly modified: Syd's breathy delivery of brilliantly assertive lust songs continues on 'Mood', 'Bravo' and 'Next Time', although hitherto absent tinges of frustrated yearning are audible in the twin heartaches of 'Stay The Night' and 'It Gets Better'. Equally, the Princely funk workouts return, albeit this time around tempered by softening sultry horn arrangements and, in the cases of 'Look What You Started' and 'Wanna Be', codas that ascend into the sort of uber-satisfying hooks last heard on Neptunes-produced pop tracks, making for a record of irresistible listenability on top of well-established swagger.
Last month, Matt Martians told Loud And Quiet that, after the success of 'Ego Death', his aim was to write another "undeniable" album to make it two back to back, and with 'Hive Mind' his wish is fulfilled: the band he started with Syd ten years ago can now boast a clutch of some of the most morish and gnawing RnB songs to be released this decade, and while that brazenly populist landgrab has perhaps come at the expense of the band's more idiosyncratic ideas, it's simultaneously difficult to begrudge The Internet their hard-earned spoils when the results are as addictive as this. With mission accomplished, though, 'Hive Mind' could end up being a comma or even a full stop to the band's current ascent. Whichever it turns out to be, the album is also, unequivocally, a celebration.
Free Protomartyr flexi disc with this month's magazine
Subscribers to Loud And Quiet now receive a limited edition flexi disc of a rare track with their copy of the magazine
This month's disc is from Detroit punk band Protomartyr