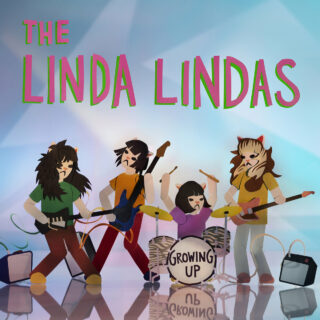 The Linda Lindas
Growing Up
(Epitaph)
7/10
The Linda Lindas are interviewed by Jenessa Williams in Issue 152 of Loud And Quiet. Order your copy now.
In case you missed it, the rise and rise of The Linda Lindas has been a hot topic in the punkier end of the music industry recently. The Los Angeles band, whose oldest member is 17 and the youngest 11, broke through last year after a performance of their track 'Racist, Sexist Boy' went viral. Landing them right in the middle of the cultural zeitgeist, the four-piece went from hobby band to supporting Bikini Kill and signing to stalwart punk label Epitaph with head-spinning speed.
Growing Up is the band's first full length, and I'm happy to report that there's a lot to love. Forgetting the protagonist's ages for a second, this is an impressively well-crafted pop-punk record. A furious 25 minutes of summer jams, it's an unironic throwback to a time when jeans were worn three sizes too big and evenings were spent attempting kickflips round the back of the technical college.
The downsides mainly stem from the hamfisted production. Sounding like someone copied the blueprints of an Atari album from 2003, compacting the guitars and bass into a mound of sludge and leaving the cut-glass vocals perched lazily on top. It's a real shame. If they'd respected the source material, then Growing Up could've been the sloppy, fun power-pop record that nature intended it to be.
Loud And Quiet could do with your help
We love making Loud And Quiet – our magazines, this website, our podcasts and more – but it's become increasingly difficult for us to balance the books.
If you're a reader who'd like to help us keep the show on the road, please consider becoming a Loud And Quiet member. There are options to receive our physical magazines and lots of other extras that are exclusive to our supporters.