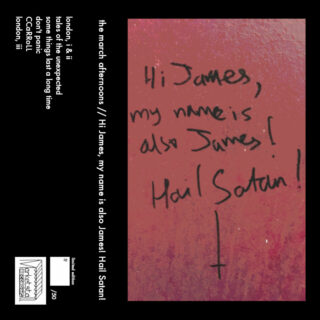 The March Afternoons
Hi James, My Name Is Also James! Hail Satan!
8/10
The March Afternoons' first mini-album, Good Luck from Barnard Castle, examined sole member Mark Estall's childhood home through a lens glazed with family quarrels and dimly remembered football TV commentary, so perhaps it's a natural progression that its follow-up here deals with Estall's adulthood home of London in much the same manner, swapping pre-teen angst and rueful reverie for their grown-up equivalents.
Accordingly, this six-tracker surveys the melancholia of romantic longing (the ghostly, Tindersticks-esque 'Tales of the Unexpected'), poor mental health and regret ('London, III', with its spectral piano), and perhaps most piercingly, the love-hate relationship/war that London seems to wage with much of its young populace, with the city as a sort of inhospitable, money-grabbing, opportunistic and frequently obnoxious beast that is also, simultaneously, completely irresistible: opener and album highlight 'London, I and II' presents the city as chewing up and spitting out far hardier characters than Estall among flourishes of rasping sax and earworm melody, and is, in its own wary way, one of the best songs written about the city for years.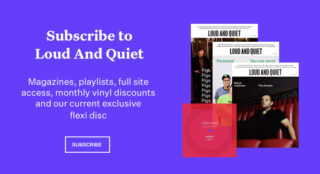 To present Hi James… as purely a concept record about the beautiful slog of London life, though, would be to neglect its pure musical charm: the album's divergent genre stylings – from the groovy hi-fi DIY Air-y instrumental of 'CCaRRoLL' to the Phil Spector-ish 'Don't Panic' – and its multiple voices causes it to feel like an old-fashioned label sampler, with multiple bands united by a common overarching thread; indeed, that, coupled with a moreishly brief running time, is perhaps its most compelling quality.
As the first song reveals, Estall moved to the capital "aged 22 in '99", making him 46 now, and rendering Hi James… as not just nostalgic, but also a rather charmingly jaded document of an adulthood that, it would seem, he's now keen to shake off. He may be right that the city is built for "younger hearts than mine", but there's a attendant suspicion that if the London grind generates records as neatly realised as this one, Estall's discomfort may be worth our delight.
Please support Loud And Quiet if you can
If you're a fan of what we do, please consider subscribing to L&Q to help fund our support of new musicians and independent labels
You can make a big difference for a few pounds per month, and in return we'll send you our magazines, exclusive flexi discs, and other subscriber bonus bits and pieces
Try for a month and cancel anytime