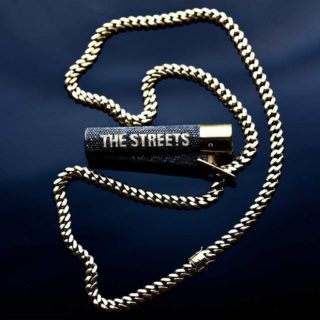 The Streets
None Of Us Are Getting Out Of This Life Alive
(Island)
6/10
None Of Us Are Getting Out of This Life Alive has been continuously pushed as the first mixtape by The Streets, neglecting the oft-forgotten and highly underrated swan-song Cyberspace & Reds, released as free online companion piece to their final album Computers & Blues. Like its sadly forgotten predecessor, this new project is highly collaborative in its approach, enlisting a crop of (mainly) young British MCs and vocalists across the tracklisting.
Mike Skinner has long excelled within the collaborative process, from his production work for artists Kano and Giggs, to his enlisting of grime MCs for many the remixes of his own singles. These tracks have arguably been some of the highlights of a career that has, beyond his first two records, been marred with a sense of middling mediocrity.
Despite this, and for good reason, the impact and importance of his earliest work has only become clearer in recent years. This is perhaps why we see a return to The Streets name on a project that sounds not unlike his more recent work under the name The Darker The Shadow The Brighter The Light.
Lead single 'Call My Phone Thinking I'm Doing Nothing Better', featuring Tame Impala, begins the mixtape in a mildly enjoyable fashion, the first of many phone-related musings throughout the record. The title track 'None Of Us Are Getting Out Of This Life Alive' featuring your dad's favourite band Idles, lands slightly better than expected, despite Joe Talbot's insistence on nearly derailing the whole affair with his attempts at rapping. As rock-infused rap goes, it's certainly not at the bottom of the pile.
The highlights of the record include 'Phone Is Always In My Hand', with its dizzying, ear-worm beat threatening to collapsing over itself, and Same Direction with it
s blunted, woozy production, all low-end bass and glittering synths. Dapz on the Map's flow slots right into the the former while Jimothy Lacoste's vocals are a welcome addition to the latter tracks chorus.
The grime-adjacent instrumentals on 'You Can't Afford Me' and 'Eskimo Ice' are reminiscent of Skinner's earlier collaborations mentioned and satisfy the itch of a sound somewhat under-appreciated in the current landscape.
Skinner's delivery remains consistent, simple observations drawn out in intentionally stilted rhymes, occasionally verging on free verse. Though the recurring half-baked breakdowns on relationships and clubland sexual politics often land jarringly flat from the mouth of a married middle-aged man, he remains an engaging enough presence on the mic.
The record nosedives toward the end, with penultimate track 'Conspiracy Theory Freestyle' featuring frequent collaborator Rob Harvey, whose vocal presence grates. The Chris Lorenzo-produced 'Take Me As I Am' is the jump-up nightmare no one ever needed, all key-sniffing lairiness and clenched-jaw lust, though its intended purpose as a live number will no doubt have the last laugh.
As a collaborative project, this mixtape lacks any defining glimmers of chemistry; for that purpose, I would recommend Cyberspace & Reds or perhaps the all-star grime remixes of 'Prangin' Out' and 'Get Out of My House'. But as a latter-day Streets project, there is more to like here than expected. A combination of Skinner's charm and some strong production just about keeps this project's head above the water. It's a project that is overall more enjoyable than the last few Streets albums, but devoid of the kebab shop revelations of his best work.
Please support Loud And Quiet if you can
If you're a fan of what we do, please consider subscribing to L&Q to help fund our support of new musicians and independent labels
You can make a big difference for a few pounds per month, and in return we'll send you our magazines, exclusive flexi discs, and other subscriber bonus bits and pieces
Try for a month and cancel anytime