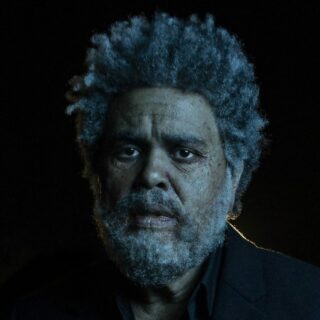 "You are now listening to 103.5 Dawn FM" calls the voice of Jim Carrey from the void, welcoming us to purgatory in the form of an adult contemporary radio station. "You've been in the dark for way too long; it's time to walk into the light," he says, playing the part of host and creepy archangel on The Weeknd's most conceptually-driven work yet. 
In many ways, Dawn FM is your textbook Weeknd album. It's full of hedonism and suffering, nostalgic pop bombast and toxic relationships. There are even unsubtle nods to drug use masked as declarations of love, something he was doing even before 'I Can't Feel My Face'. But packaged in the watertight purgatory concept, Abel Tesfaye finds surprising new corners of both his persona and sound to explore. In fact, the album is easily the boldest and most emotionally resonant since his early mixtapes. The underlying dread of its central conceit makes his haunted love songs hit with a new sense of urgency.
Dawn FM is still on the '80s kick that was so playfully explored on After Hours, but the album uses this foundation to dive into strange asides and more specific references. There are, of course, nods to Michael Jackson on the squelching guitars and vocal ad-libs of 'Sacrifice', this influence underlined by a candid vocal cameo from Quincy Jones. But there are also weirder moments inspired by despondent new wave, Japanese city pop and RAM-like Giorgio Moroder arpeggio passages. Tesfaye is a charismatic lead throughout. He frequently garbles his vocal like a post-punk frontman, putting on a hokey English accent that works better than you might expect. 
Working once again with electronic cult hero Oneohtrix Point Never (whose recent radio-station-inflected record, Magic, is an audible influence) as well as Swedish pop super-producer Max Martin, the album balances The Weeknd's oddball charm with pop song efficiency. The entire experience is a slick and gutsy celebration of his current golden age, with songs like 'Out of Time', 'Gasoline' and 'How Do I Make You Love Me' ranking among his very best. 
'Less Than Zero' concludes with a sensitive reflection of our protagonist's shortcomings, supported by a memorable semi-ironic singalong chorus, before Carrey ends his transmission with an affecting spoken word eulogy: "Heaven's for those who let go of regret, and you have you wait here when you're not all there yet". With music like this to keep us company, purgatory doesn't sound too painful.