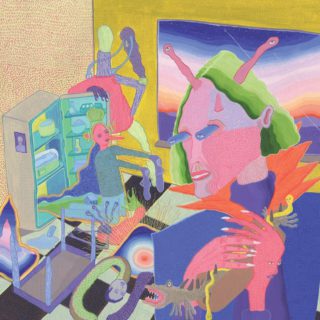 The Wytches
All Your Happy Life
(Heavenly)
6/10
The debut album from this rough-and-ready Brighton-based three-piece, the beguilingly-titled 'Annabel Dream Reader' of 2014, found itself stuck somewhere between the unvarnished ferocity of the band's live shows and a well-intentioned, although ultimately half-baked, desire to turn in something a little more atmospheric and enigmatic. They get another go on 'All Your Happy Life', and do an altogether better job. Cuts like 'Can't Face It' and 'Ghost House' fall somewhere between big, sludgy riffs and the kind of contrarian, almost bratty vocal turns that have characterised the likes of FIDLAR's and Wavves' recent efforts.
They counter that with more measured moments – see the melodic guitars on 'Bone Weary', or the subtly shifting pace of 'Dumb-Fill' – but whilst both sides of The Wytches are well-represented on here, there's also the sense that they still haven't quite figured out how to channel the raw energy they conjure up so readily onstage into the sort of nervous tension that might suit their songwriting style better.
Loud And Quiet could do with your help
We love making Loud And Quiet – our magazines, this website, our podcasts and more – but it's become increasingly difficult for us to balance the books.
If you're a reader who'd like to help us keep the show on the road, please consider becoming a Loud And Quiet member. There are options to receive our physical magazines and lots of other extras that are exclusive to our supporters.