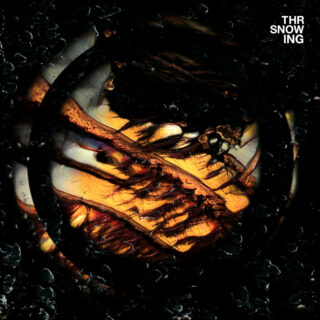 Armed with a Masters in Creative Music Technology and a degree in Physics and Astrophysics, Ross Tones aka Throwing Snow isn't afraid of pushing a concept. On his 2017 album Embers, Tones created a digital cycle of life, death and rebirth where the building blocks of the opening track underpinned the entire album, creating an infinite loop that ultimately recycles itself. Dragons doesn't click down to that cyclical level, but piqued by an interest in archaeoacoustics (examining the acoustics of archaeological sites and artefacts), it's still a physical, highly technical listen of reverent rhythms, biting percussion, and modern electronica that blurs the lines between science and ancestry.
'Lithics', released earlier this year, gave some indication of what was to come. Taking a few of the traditional instruments he was learning, Tones rechannelled them to emulate more modern counterparts – an Irish Bodhrán became an 808 kick; the Middle Eastern Daff became a snare; and the Indian Esraj became a melodic string piece put through a few different pedals. 
That juxtaposition comes to life throughout with tracks such as 'Purr', rewired with some of those same percussive traditional instruments, sitting next to the bright, stuttering melody of 'Halos', the snarling electronica of 'Brujita' and the two-step snap of 'Equitem Nocte'. Elsewhere, 'Traveller' combines shades of Gold Panda with raining synth drama, 'Lithurgy' lurches through an eight-bit dreamscape, and 'Ochre' brings a familiar, dissonant growl.
Whether you listen to Dragons as an abstract lesson in music folklore and history or simply a measure of how much one artist can create with just a handful of elements, strip back the conceptual complexity, and these tracks still stalk and snarl. With this much guttural power, the sweet science of Throwing Snow continues to be an essential listen – that Palaeolithic brain of yours will thank you.
New monthly memberships available
Here's a new thing: our membership scheme now has a pay-monthly option, plus a load of exciting new digital stuff for people who support what we do. It's actually excellent value, honest, and will help us continue to promote new independent artists and labels.
Sign up and you'll receive our physical magazines delivered to your door, our digital editions, exclusive podcasts and playlists and access to our EXTREMELY glamorous Members Lounge. You'll be the envy of all your friends.