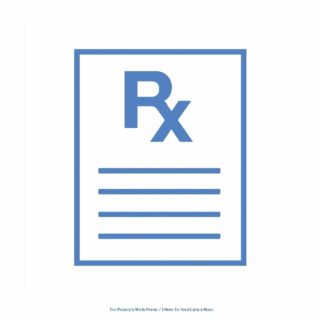 White Fence
I Have To Feed Larry's Hawk
9/10
Despite recently appeasing on albums alongside Ty Segall ('Joy') and Cate le Bon ('Hippo Lite' as Drinks), four years feels like a terribly long time to wait for a new Tim Presley solo album. And yet, the cryptic, impressionistic pop of his seventh full-length as White Fence feels like perfect timing.
While 2014's 'For The Recently Found Innocent' marked a departure from earlier homespun efforts including 'Is Growing Faith', 'I Have To Feed Larry's Hawk' is a winning mid-fi return. Having sketched it while living with Le Bon (in the unassuming Cumbrian village of Staveley, no less) the album was later completed in San Francisco with Jeremy Harris, who recorded the project, as well as contributing piano, keys and drum arrangements.
It's "painting vulnerability" that Presley offers up on 'Larry's Hawk'. Sure enough, combined, these fourteen songs feel like an unguarded monologue, flipping between abstracted ballads and heartfelt pop experimentalism. The spectre of early solo Robert Wyatt hangs over the twinkling keys and vocals of the album's opening title track. 'I Can Dream You' is just one earworming paean to the recent past. 'Lorelei', meanwhile, makes for a logical lead single. Over three minutes, Presley's spidery arpeggios, organ, synth and drum machine beats forge something special.
Though Presley sounds emotionally marooned here, collaboration pushes at least three songs into highlight territory. While guitar and backing vocals courtesy of L.A.-based Welsh artist H. Hawkline seals the deal on the lamenting 'Phone', San Franciscan drummer Dylan Hadley has crucial presence on 'Until You Walk' and 'Forever Chained' (another peak with more than a whiff of Chas and Dave's 'Ain't No Pleasing You'). And while a sense of weary, yet hopeful solipsism permeates the bulk of the album, it's in its fleshed-out full-band moments where Presley shines.
As he has shown many times in the past, both in the guise of White Fence and with others, Presley has an uncanny knack for filtering towering melodicists like Alex Chilton, Syd Barrett, Buffalo Springfield et al. into his own vision. On 'Larry's Hawk', this is laid bare. Doubled with a clear absence of preciousness (which could very well be the album's coup de grâce) each of these songs feel like they stemmed from some intuitive musical notion in the cold dead of night. Fleshed out and placed back-to-back, they become something resonant, whole and inspired.white fen
Free Protomartyr flexi disc with this month's magazine
Subscribers to Loud And Quiet now receive a limited edition flexi disc of a rare track with their copy of the magazine
This month's disc is from Detroit punk band Protomartyr