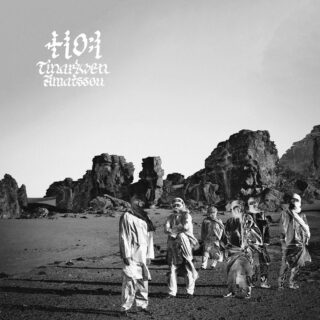 Tinariwen
Amatssou
(Wedge)
8/10
On Amatssou, pioneers of what has been dubbed 'desert blues' (though the term does little justice to the complex and diverse music of the Sahara) Tinariwen have written the soundtrack for a world that still cannot shed its colonial biases towards 'world music'. Driven by the political turmoil in Mali, Amatssou stands as a testament to the struggles of the Berber tribe against the Salafists.
With Daniel Lanois' pedal steel featuring on two tracks and Fats Kaplin and Wes Corbett on banjo and violins, Tinariwen's new album combines their signature guitar and percussion-based groove with American-style country. Thankfully, the combination is not as much an Americanisation of Tinariwen's Tuareg roots as it is an endearing and a complementary ingredient on the album.
Recorded in a makeshift tent studio in an Algerian oasis, Amatssou is perhaps Tinariwen's second-most explorative work, after their 2019 album Amadjar. From the get-go, it immerses you in a landscape rich with call-and-response chants and complex rhythms, thanks to the percussive flair of Said Ag Ayad. The rhythm section on the album moves further away from the stereotypical 'desert blues' imagery; although the ghost of their 2017 track 'Assàwt' still lingers over 'Anemouhagh', the repetitive dynamics provide agile transitions between the varying moods of the album – from the bright nuances of 'Kek Alghalm' to the duskier overtones of 'Nak Idnizdjam'.
On Amatssou, Tinariwen foregrounds the urgent threat to Tuaregs in Africa, inspiring more artists to join the rebellion. And in doing so, they remain loyal to their musical roots, despite the diametrically opposite geographies that coalesce on the album.
Free Protomartyr flexi disc with this month's magazine
Subscribers to Loud And Quiet now receive a limited edition flexi disc of a rare track with their copy of the magazine
This month's disc is from Detroit punk band Protomartyr