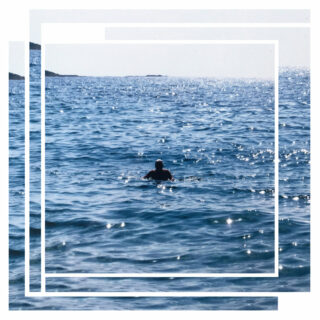 I'm calling bullshit on this album's cover image – almost nothing on this record is tranquil. Total Wkts is the solo moniker of John Newton, better known as the drumming, singing John of South London power duo JOHN. His former project might be all rock and roll fury, but on his own, Newton is a much more brooding figure – picture Henry Rollins punching the mirror on the cover of Damaged rather than Iggy Pop flailing around.
A product of consecutive lockdowns spent in a South London flat, this album has the nervous energy of a trapped animal. Spending too much time in one place is never good, and Newton's angst seems to grow from his surroundings – be it the singing of an unknown neighbour repurposed into the backing vocals on 'P.W.R.R.E.G' or the clatter of pans that underpin the haunting rhythm of 'Deadclub'.
Sonically, No Holiday fits neatly into that category of kitchen sink punk typified by Shame, with its Fall-esque conceptualism and 'War Pigs'-era brutality. Underneath, though, it also works as a portrait of the relentlessness anxiety that London seems to foster in people, the harsh, repetitive drums hammering home the point with the intensity of someone driving nail into a wall.