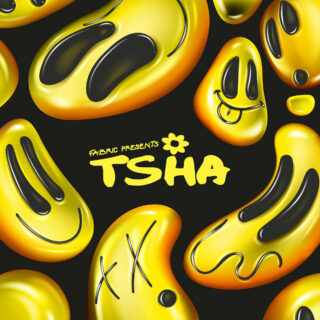 TSHA
Fabric Presents
(Fabric)
8/10
Allowing this 76-minute mix to wash over you on the first couple of listens, you'd be forgiven for wondering if TSHA really is one of London's brightest young dance talents. That's not because she hasn't vindicated the hype on this slick release, one that brings her full circle after beginning to make her name three years ago with a memorable turn on Bonobo's volume in the Fabric Presents series, but rather because for somebody still so short in the tooth, so many of her musical touchpoints are throwbacks; the spectre of acid house hangs heavy, as does old-school rave. 
What might otherwise be a retread of well-worn territory, though, becomes something different when you delve a little deeper and consider the connective tissue here; the joy of TSHA's Fabric Presents is in the way she uses this platform to use tracks from her contemporaries to bind together those from her influences. The segue from WK7's hardcore mix of 'The Higher' into the thoroughly modern techno of Ryan Clover's 'Velvet Lace Dream State' is a case in point, as is having Elkka's '90s-inflected 'Harmonic Frequencies' follow a real standout in Gallegos' 'Sycophantic Maniac', which conversely sounds every inch the future. As well as repaying the favour Bonobo did her in highlighting fresh talent, though, her own single is crucial to Fabric Presents' success; 'BOYZ' plays like the mix in microcosm, all joy and positivity, mindful of yesteryear but with one foot in tomorrow. A triumph.
Loud And Quiet could do with your help
We love making Loud And Quiet – our magazines, this website, our podcasts and more – but it's become increasingly difficult for us to balance the books.
If you're a reader who'd like to help us keep the show on the road, please consider becoming a Loud And Quiet member. There are options to receive our physical magazines and lots of other extras that are exclusive to our supporters.