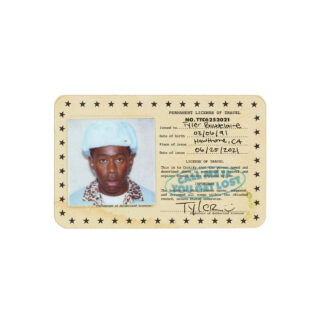 Tyler The Creator
Call Me If You Get Lost
(Columbia)
9/10
Where do you go after a record as personal and explorative as IGOR?
One: You keep on mining gold out of heartbreak, digging deeper into the lo-fi experimental R&B songs that made IGOR and Flower Boy before it work so well.
Two: You return to the raw and unabashedly bare-bones hardcore hip-hop that made records like Wolf hit so hard.
Three: Do something else entirely – maybe a passion project you've been thinking of doing for over a decade.
Call Me If You Get Lost responds by doing all three at once, and it's still somehow the most refined record Tyler, the Creator has made. He's been toying with making a Gangsta Grillz mixtape since 2009. On the surface, that's exactly what he's given us. DJ Drama is even here as the hype man. "Y'all ready? I don't think you're ready," he screams on the intro.
From there, his voice is everywhere, seamlessly connecting a collection of tracks that share a carefully constructed aesthetic rather than a concise story. Tyler swallows up breezy bossa nova, spaced-out dub, fuzzy synth bass and crisp Neptunes-era drum sequencing to create a sound that's timeless without being nostalgic, modern without being trendy, and full of heart. He calls back to the chaos of Cherry Bomb when it feels right, and swirls in the lovesick balladry of his past two records just as often.
Tyler has been a natural bandleader since the Odd Future days, able to bring the best out of those around him when it matters. Here is no different. He calls on heroes like Pharrell and Lil Wayne, as well as newer faces like 42 Dugg and YoungBoy Never Broke Again. All of them are natural choices for a high-energy mixtape like this, but it's likely Tyler's influence that makes each rapper deliver their best verses in a while. He's in command of each drum break, interlude and ad-lib that colours the record.
But nowhere is he more in command than with his own rapping, the obvious focal point of the record. Take 'Massa' – a masterclass in flow and vocal control, where he's cocky, paranoid, wounded, wise and dumbfounded depending on the bar, all while plotting his slow rise to success with fresh insight. By the time we've reached the crescendo, he's earned his flowers. That's not to mention the tightly-knotted, coolly delivered internal rhymes – the kind of rhymes Tyler no doubt obsessed over with friends when listening to DOOM.
That love of the craft epitomises Call Me If You Get Lost. It's on 'SWEET / I THOUGHT YOU WANTED TO DANCE', the always anticipated tenth track, which captivates with nine-minutes of blissed-out soul-reggae. It's on the masterful beat switch the introduces Domo Genesis on 'Manifesto', where Tyler later undresses white-guilt cancel culture discourse without sounding like a total goof. Any rapper that can do that is doing something right.
Call Me If You Get Lost flies by in a flurry of memorable lines and knocking beats. Deeper listens reveal just how layered it is. The line "I tried to take somebody's bitch because I'm a bad person" on 'CORSO' at first sounds like a self-deprecating joke masked as a flex, until Tyler tells the full story on 'WILSHIRE'. It's an aching story about forbidden romance, recorded on a 'shitty handheld mic' in one take. He performs like he's sharing the tale to close friends. That candid appeal and straight-from-the-source energy was all over the DatPiff mixtapes that influenced him, but he's recreated it in his own image.
Where do you go after a record as good as Call Me If You Get Lost? Wherever the hell you want.
Free Protomartyr flexi disc with this month's magazine
Subscribers to Loud And Quiet now receive a limited edition flexi disc of a rare track with their copy of the magazine
This month's disc is from Detroit punk band Protomartyr