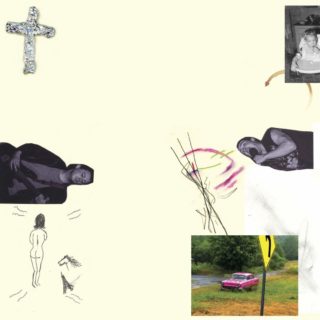 Urochromes
Trope House
8/10
Ironically, for a band who are literally named after the colour of piss, Trope House frequently feels like a detonation of different colours. Urochromes' first full-length is a record that is as manically energetic as it is head-scratching.
Then again, Urochromes have always done 'punk' a little bit differently to most other bands. Since 2015, the duo has taken the tried-and-tested guitar-and-drum macho punk ideal and have slowly subverted it by adding upon layers of weird, Devo-like surrealism.
Trope House sees the New York band wander even further down this experimental path. Kick-off track 'Milieux' and single 'Hair So Big' might be old-school classic punk rock, but over the 10-tracks Urochromes manage to visit some pretty weird and trippy places. 'Rumshpringa' is probably the closest you'll get to a Urochromes ballad, while the cover of Bikini Kill's 'Resist Psychic Death' is gloriously unhinged.
In the hands of most other bands, this balancing act wouldn't work, but luckily Urochromes have a secret weapon in Dick Riddick. Effortlessly inspired and inventive, he always seems able to throw Stooges influences, tape fuzz and guitar licks together and come up with incredible-sounding sonic ratatouille. Trope House, with all of its bizarro twists and turns, basically sees this genius really cut loose.
Free Protomartyr flexi disc with this month's magazine
Subscribers to Loud And Quiet now receive a limited edition flexi disc of a rare track with their copy of the magazine
This month's disc is from Detroit punk band Protomartyr