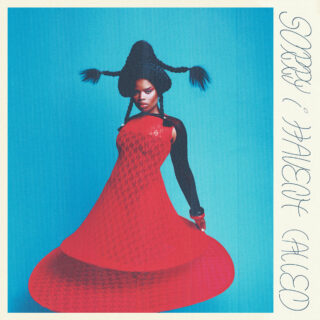 Vagabon
Sorry I Haven't Called
(Nonesuch)
8/10
Vagabon is interviewed in the new issue of Loud And Quiet. Subscribe or order a copy now. 
For this record, her third under her Vagabon moniker, Lætitia Tamko says that she "didn't feel like being introspective", which would mark a pretty pronounced departure from the kind of thoughtful, electronically-infused pop rock that she served up on Infinite Worlds and Vagabon. Truthfully, though, it suits her, as do some of the production choices on Sorry I Haven't Called, for which she's enlisted former Vampire Weekend man Rostam Batmanglij to assist her behind the boards. It was a smart bit of recruitment; he helps Tamko to lean into her electronic impulses more than ever before, resulting in sensual, club-ready cuts like 'You Know How', as well as breezy synth-pop earworms like 'Passing Me By'. 
There's experimentation, too; 'Autobahn', a nod to the New Yorker having written the record in Germany, is sparse, updating Imogen Heap's 'Hide and Seek' for the present day, while she sets the thrilling, racing 'Do Your Worst' over a breakbeat. Perhaps writing modern pop music isn't that complicated, after all; Sorry I Haven't Called certainly makes the case that all the artist needs to do is head into the studio with the intention of enjoying themselves.