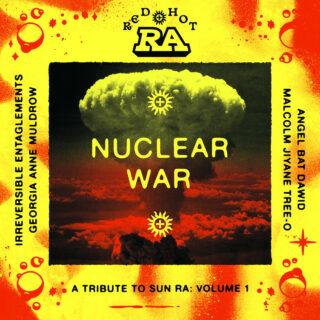 Various Artists
Red Hot & Ra: Nuclear War
(Red Hot)
9/10
Sun Ra's 'Nuclear War' might be the Jupiter-born free-jazz maniac's most malleable tune. Starting life in 1984 as the opening track on his album of the same name, there brimming with fucked-up be-bop modal slink, it was then reimagined four times over a single 40-minute EP by Yo La Tengo at the turn of the millennium, re-emerging as everything from one-chord krautrock mantra to loose-limbed electronica deconstruction.
Now, twenty more years on, New York's Red Hot Organisation, famous for producing star-studded leftfield compilation albums to raise AIDS awareness (1993's No Alternative, 2009's Dark Was The Night, etc), have commissioned a parade of contemporary American jazzers to have their own pop at Ra's mushroom-cloud-laying masterwork, with the likes of Georgia Anne Muldrow and Angel Bat Dawid each taking turns over a mesmerising hour.
If the prospect of 60 minutes of the same tune seems a bit much on paper, however, fear not: this is some of the most engaging, startling and imaginative jazz playing you'll hear all year, full of exactly the sort of chaotic structure, mind-warping improvisation, eye-popping variety and inescapable groove worthy of the tune's author. Muldrow first moulds the song into a sort of mournful G-funk elegy, then Bat Dawid goes full cosmic squawk for a three-movement, half-hour version that frequently gazes over the edge of madness. Philadelphia quintet Irreversible Entanglements (who feature Moor Mother among their number) steal the show, though, with a wild trip through free skronk, sarcastic marching band pageantry, and eventually a glorious post-hip-hop stride that feels, simultaneously, as strong as an ox and like it could collapse at any minute.
Collectively, the four interpretations here serve as a brilliant barometer of the vanguard of American jazz in 2023 – urgent, visionary, and (despite/because of the apocalyptic subject – delete as applicable) bursting with life.