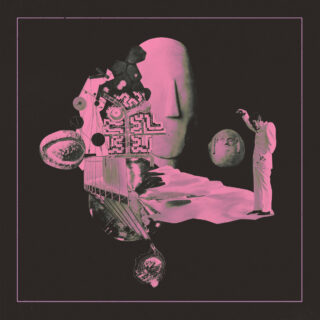 Veik
Surrounding Structures
8/10
What might brutalist architecture sound like? The answer is as complex as the structure of those post-war modernist buildings. What might indeed appear on the surface as a monolithic construction hides in its shape an elaborate design, stripped bare of any ornament, and devoted to functionality and efficiency. And brutalist architecture is what inspired Veik for their debut album, Surrounding Structures.
Veik is Boris Collet, Vincent Condominas, and Adrien Legrand; as their accent may hint, the trio is hailing from Caen, at the heart of Normandy, in France. Along countless detours taken during their time on the road through France, Germany, and Belgium, the band found out that the rough look of those giants reminded them of the contemporary human condition. Those in the title are "physical and social structures that surround us, and… they shape us as individuals and collectives."
Thus, Veik's Surrounding Structures tackles the whole spectrum of the human struggle on Earth: physical and mental illness, political activism (or lack thereof), personal achievements, and failure. Next to brutalism, other openly declared sources of inspiration span from Oscar Wilde's aphorisms, Dadaism and the Yellow Vests movement – even though according to its writers it "is not a political album per se, but a way to address that question from different scales of observation, by telling stories and by integrating our own experiences and reflections into our sound." And what a sound! With an astounding mixing and recording, the ten tracks are rich with a resonant and organic quality, embracing the listener in its full body of analog synths and hammering rhythms. Alluring in its hulking shape, reminiscent of the original krautrock and no wave era but with a steady foundation in the present. Veik have made a remarkable debut album.
New monthly memberships available
Here's a new thing: our membership scheme now has a pay-monthly option, plus a load of exciting new digital stuff for people who support what we do. It's actually excellent value, honest, and will help us continue to promote new independent artists and labels.
Sign up and you'll receive our physical magazines delivered to your door, our digital editions, exclusive podcasts and playlists and access to our EXTREMELY glamorous Members Lounge. You'll be the envy of all your friends.