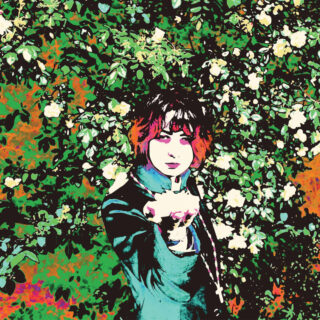 Vera Ellen
It's Your Birthday
6/10
As most of the world was forced into an interminable period of separation from loved ones due to the pandemic, Vera Ellen had quite the opposite experience. The LA-based New Zealander was ready to return to the States after spending some time back home when suddenly the borders shut and she was prevented from leaving. With multiple demos already sketched out, Ellen decided to spend her extended stay fleshing out her compositions into a full record. It's Your Birthday then was forged in a context of reunion, making it something of a rarity given the last 18 months.
However, this is as far as warming sentiments of community and kinship go. Despite being recorded in New Zealand, It's Your Birthday is largely defined by a heart-wrenching sense of unbelonging, having been written over a number of years as Ellen lived abroad in the States. The album yearns for stability and commonality as Ellen attempts to determine her place in her new home. Often this is articulated via an exaltant expression of love, or potential love, as she gazes admiringly at those capable of making her feel like she belongs ('You!', 'Yuppie Farm', 'It's Good, It's Simple'). Presented in her ramshackle indie style, one totally in-keeping with her label Flying Nun's famous output (The Clean, The Chills, et al), it is laden however with a kind of anxious joy, as if Ellen knows things could be good, but discomfort prevents them from ever being so.
The record's exploration of unease and finding acceptance isn't confined to failed love interests, Ellen tackling topics such as gender nonconformity ('I Want 2 B Boy') in addition to unsuccessful pursuits. Most poignant however is when her loneliness is compounded by the miles between herself and her family in New Zealand. The title track touches on this divide, Ellen patently aware of how her mother won't approve of her skin, the room she lives in, "and how I trust you with my life when I've only met you twice". Closer 'Joy' explores this separation most explicitly, as over plaintive guitars, piano and drums Ellen exclaims: "Some nights get hard, I just want to run to you / In our mother's arms, we have much to hold on to". Rarely has the exhausting intensity of separation been explored so candidly, as Ellen's diary-entry style makes her plight all the more visceral. It may not have been pandemic-induced, but It's Your Birthday evokes a formidable sense of loneliness that most of us can now appreciate a whole lot more.
New monthly memberships available
Here's a new thing: our membership scheme now has a pay-monthly option, plus a load of exciting new digital stuff for people who support what we do. It's actually excellent value, honest, and will help us continue to promote new independent artists and labels.
Sign up and you'll receive our physical magazines delivered to your door, our digital editions, exclusive podcasts and playlists and access to our EXTREMELY glamorous Members Lounge. You'll be the envy of all your friends.