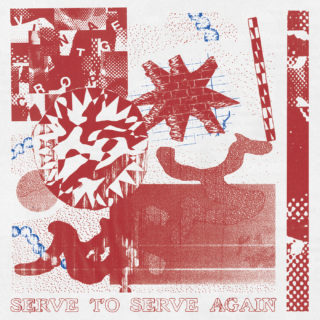 Vintage Crop
Serve To Serve Again
8/10
"I've been told my statue / has just started construction," quips Vintage Crop's Jack Cherry on 'The Ladder', the second track from the Aussie punk band's third album Serve To Serve Again. It's a timely line on an album full of shrewd observations about privilege, class and capitalism–hardly new ground for a punk band, especially not one made up of 4 white guys, but Vintage Crop's anecdotal and surrealist lyrics make for compelling storytelling. Their hometown of Geelong, a port city 75km outside Melbourne, serves as a backdrop for relatable rants about postcode snobbery ('Streetview'), commuter traffic jams ('Gridlock'), and small minded neighbours ('Life and Times'), delivered deadpan over thrashing guitars and frantic basslines. It's perfect moshpit fodder, and tracks like 'Gridlock' and 'Jack's Casino' warrant a sweaty, cathartic kind of mosh the likes of which we can only dream of for now.
There are easy comparisons to make with compatriots like Amyl & The Sniffers (who they supported on tour at the beginning of the year), or The Chats, but whilst Vintage Crop do share the former's high-octane performance style and the latter's lyrical wit, Serve To Serve Again reveals them as a band deserving of recognition well beyond the Australian scene.  At its best– on brilliant 'The North' for example – their astute, nuanced punk rock rivals that of Parquet Courts, Iceage or Fontaines D.C. At times, they verge on the trite – 'Just My Luck' could be a parody of a punk song with its hackneyed lyrics about a shitty job – but the killer riffs just about rescue it. On the whole, their third album shows the band carving out a sound which is infectious, and truly their own. When moshing returns, we'll be down the front.
Loud And Quiet could do with your help
We love making Loud And Quiet – our magazines, this website, our podcasts and more – but it's become increasingly difficult for us to balance the books.
If you're a reader who'd like to help us keep the show on the road, please consider becoming a Loud And Quiet member. There are options to receive our physical magazines and lots of other extras that are exclusive to our supporters.