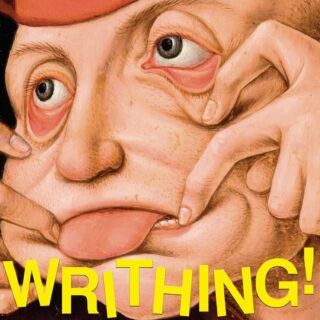 All the best – see, truest – albums leave room for divergence. A coolness to stray from the minutes that spread themselves across radio airwaves like vanilla icing, or march into playlists with a soldier's conviction. Atten-tion! London three-piece Voka Gentle – twins Ellie and Imogen Mason and William J. Stokes – ditch the "Wo-" prefix of their band name and release one of the underground albums of the year. It's a tightly knotted thing: a loose-limbed rubber band ball of telecaster strums, cosmic harmonies and electronics; a trigger point massage where each soreness can be felt individually.
Don't be tricked into the [redacted] Radiohead comparisons, although occasional affinities scatter the record's quieter sections from the grunge-come-softcore guitar bloom of 'See Damage (зона)' to the whirring, acerbic electronica of 'Dread/TKOE'. The weird, avant-garde pop revival more closely recalls turn-of-the-decade Arcade Fire, Animal Collective and Dirty Projectors, muddied in krautrock and techno-inspired noise with a sobriety that cuts through to the most devastating nerve ending. Seining through the tendons with psychedelic ascension, Voka Gentle's net lures on a slowing world with ecological dread, a soaring co-sign from The Flaming Lips' Wayne Coyne ('Necrofauna/The Garden Of Eden'), a hook built from a baby's laugh and a visual fantasia from the mind of Mermaid Chunky's Moina Moin.
Excursions circle back on themselves, stranded passages that don't make sense in isolation become recurring dreams. 'A Selving' recites the same childhood curiosities in the exposition that 'Slow Joe' laments by denouement, a child's flight that becomes tainted by the realism of their father's arms: "I'm an astronaut… please don't ruin this for me"; 'Slow Joe' respects the eccentricities earlier songs asked for; Grayson Perry becomes a verb. When we reach 'TV Bra' and 'See Damage (зона)', Stokes's sprechgesang sounds elevated into the boundless black comedy of Richard Dawson, part Mighty Boosh, part Arthur Russell's Iowa Dream.
But music like this rarely sounds so grounded in feeling. Through the chaos and colour of WRITHING! come moments of real heartache and elation, isolation and humanity. A fly buzzes in the synth-laden foreground, percussion is traded for the sounds of ice cracking, a device created by Benton Ching literally translates pollution into music ('Miasma Field Modulator') and a dark-folk ballad threatens to overcome you. Didacticism plays second fiddle to sadness: "I love you in that dress". Songs of adoration back songs of terror, the digital takeover in a misspelt "futur-" backs being in love; Voka Gentle peer out from behind the curtains into the glimmers of a special new world, entirely of their own creation.
New monthly memberships available
Here's a new thing: our membership scheme now has a pay-monthly option, plus a load of exciting new digital stuff for people who support what we do. It's actually excellent value, honest, and will help us continue to promote new independent artists and labels.
Sign up and you'll receive our physical magazines delivered to your door, our digital editions, exclusive podcasts and playlists and access to our EXTREMELY glamorous Members Lounge. You'll be the envy of all your friends.