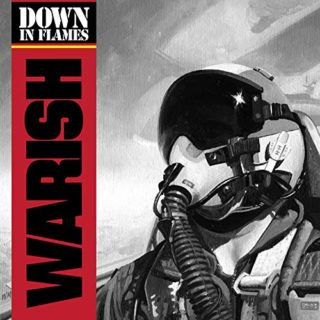 The brainchild of Riley Hawk, son of world-famous vert skater Tony Hawk, Warish is not the kind of band to do subtly. Inspired by the punk and space-rock of their native southern California, the three-piece's teaser output has tended toward weed-hazed psychedelic rock and sludgy proto-metal.
That makes it slightly surprising that the band's debut, Down in Flames, is all low-slung garage thrash. Kicking off with a 'Healter Skelter' – an electrifying punk rock rager, with zeitgeist capturing Charles Manson references, it launches out of the blocks at 100mph and mainly stays there.
Down in Flames isn't a radical record in any sense really. With its heavy-distortion, thudding drums and reverb-drenched vocals, it leans on a tick list of well-trodden hard rock and punk metal influences, from Ram Jam and Black Sabbath through to Big Black and The Misfits. However, Warish clearly aren't trying to be all that clever. Luckily the band's evident love of the source material and tight, breakneck delivery means you're mostly too busy nodding along to notice the more telegraphed call-backs.
The best way to think of Warish's debut is as a solidly constructed piece of old-school Californian skate punk. OK, it might not be as free-wheeling and inventive as Ty Segall or Thee Oh Sees and it sticks way too rigidly to the hard-rock end of the spectrum to pull off any real curveballs. But if Riley Hawk's objective was to make an exhilarating record of thrash-punk bangers then you have to admit he's pretty much nailed it.