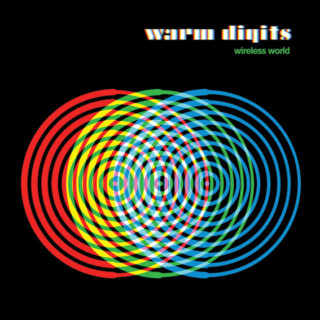 Warm Digits
Wireless World
7/10
Inspired by the idea of a world teetering between progress and collapse, Warm Digits' third album combines disparate parts of analogue warmth, Giorgio Moroder-esque electronic exploration and an often beautiful, battering propulsion. Armed with live drums, guitar and electronics, and a few guest vocalists (Field Music's Peter Brewis, Saint Etienne's Sarah Cracknell and Devon Sproule), the tracks on 'Wireless World' flicker between rich, widescreen ambition and polyrhythmic playfulness.
On 'Fracking Blackpool', the Northern duo propel forward with a steady Motorik insistence; on  'Always On' they channel a sub-two minute blast of 'Tarot Sport'-era Fuck Buttons; on 'Victims of Geology' they come alive with a potent blend of guitar angst and electronic complexity that both 65DaysofStatic and Vessels continue to perfect. But in-between the cracks, Cracknell and 'Growth of Raindrops' emerge with a burst of blooming M83-inspired shoegaze and Sproule adds some sass on the wonky pop of 'The Rumble and the Tremor' to ensure there's some levity to Warm Digits' impressive machine funk march.
New monthly memberships available
Here's a new thing: our membership scheme now has a pay-monthly option, plus a load of exciting new digital stuff for people who support what we do. It's actually excellent value, honest, and will help us continue to promote new independent artists and labels.
Sign up and you'll receive our physical magazines delivered to your door, our digital editions, exclusive podcasts and playlists and access to our EXTREMELY glamorous Members Lounge. You'll be the envy of all your friends.