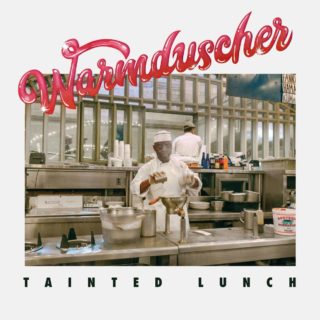 Warmduscher
Tainted Lunch
(LEAF)
7/10
For the uninitiated, let's get one thing straight: Warmduscher are ridiculous. They have "quirky" pseudonyms like 'Mr. Salt Fingers Lovecraft', and their songs are filled with animal noises and sex sounds. On the surface, we might as well write them off as this decade's Bloodhound Gang and have done with it. Except – and this really makes me quite angry, because they have absolutely no right to be – Warmduscher are, for the most part at least, bloody good.
With a few exceptions (the oddly placed track-switch 'Burner', featuring Kool Keith, and 'The Chimp', the less said about which the better) their second album is a shifting, wonderfully technicolour affair.
Genre-wise, Tainted Lunch is a mixed bag. In places it slots neatly into the storied history of punk, as when 'Blood Load' builds into hysterics with a Stooges-style vocal. Elsewhere this influence is taken to its natural conclusion, as Iggy Pop lends his voice to album opener 'Rules of the Game'. But there is funk and hip hop in the mix too, like on the synth-heavy 'Dream Lotion', and the aforementioned 'Burner'.
Despite the caricaturish elements, Warmduschers' best work here is in the interplay of desire and superficial pleasure. Pushing forth in fits and starts, lead single 'Midnight Dipper' is a seizing, jerkily danceable tale of one-night-only euphoria. Meanwhile, 'Fill It, Don't Spill It' is half-indictment, half-exultation as it paints an image of an attention-seeking man with "everything except substance". Warmduscher know the mania and disillusion of the high, and on Tainted Lunch the truest points are when they can distil it. 
Free Protomartyr flexi disc with this month's magazine
Subscribers to Loud And Quiet now receive a limited edition flexi disc of a rare track with their copy of the magazine
This month's disc is from Detroit punk band Protomartyr