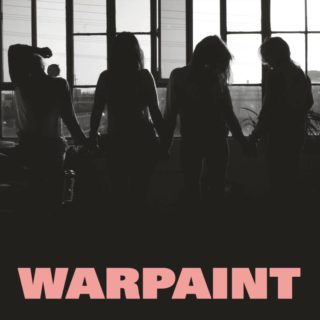 Having jettisoned both Flood and Nigel Godrich from their respective production and mixing duties, Warpaint call on Jacob Bercovici, the man who produced that superb debut EP, 'Exquisite Corpse,' back in 2007, as they attempt to return to former heights. And 'Heads Up' does do that in the main. The one criticism is that, continuing the trend of Warpaint releases going back almost a decade, it sprawls needlessly. Tracks wander all too often towards the five-minute mark without any real reason to do so.
The group say they have learnt not to overanalyse during the recording of their third album and yet it feels like this could have been a much tauter record had they just been more ruthless in post-production.
But as much as 'Heads Up' frustrates, it would be unfair to discard the whole because of the flab around its edges. Never before has the group's vocal interplay sounded so lush, so implausibly otherworldly, while Stella Mozgawa's beats have grown into combustible walls of polyrhythms, meaning that this is the Warpaint's most danceable, most tactile record to date.
The bar is set ridiculously high on the album's first track, 'Whiteout.' A dizzying, bass-driven slice of dream pop, it is the best track on the album by a distance. Elsewhere, 'So Good' recalls The xx in its sparse, intimate atmospherics and minimalist grooves, smartly channelling 2000s RnB before going into a tantalising, full-on 4/4 dance coda, while 'Don't Let Go' is an astounding achievement for an indie band, with Emily Kokal, Theresa Wayman and Jenny Lee Lindberg combining to form an impossibly full choir of three. Haunting, laid bare, and yet boldly menacing, it's the nearest cousin to 'Talk Show Host' you'll come across.
It all makes you wonder how 'New Song,' with its shallow, cynical dance-pop beat and shamelessly hollow teenage poetry ("You got the moves/ Bang, bang, baby.") was chosen as the single with which to announce an album of far superior quality.
Please support Loud And Quiet if you can
If you're a fan of what we do, please consider subscribing to L&Q to help fund our support of new musicians and independent labels
You can make a big difference for a few pounds per month, and in return we'll send you our magazines, exclusive flexi discs, and other subscriber bonus bits and pieces
Try for a month and cancel anytime