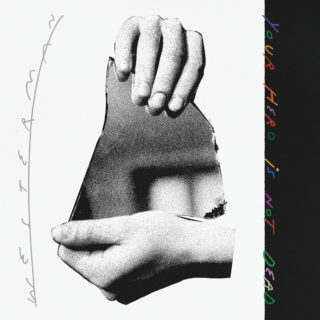 Westerman
Your Hero Is Not Dead
(PIAS)
6/10
A NOTE: LOUD AND QUIET IS IN DANGER OF CLOSING. PLEASE CONSIDER SUBSCRIBING TO OUR MAGAZINE OR MAKING A SMALL DONATION HERE. THANK YOU.
Two years on from the Ark EP, Westerman's debut album is finally here. Your Hero Is Not Dead is a collection of 12 songs which are full of the trademark dreamy, wandering sonic experiments of the London-based artist, but it's more subdued than his previous output. The album was inspired by contradictions, both internal and external, and the catharsis that results from their acknowledgment and occasional resolution.
Past and present fuse to bring a whisper of better times and hope for the future on this album. When the record really works, it sometimes resembles the output of people like Sufjan Stevens and Iron & Wine, although it could have used some pushing to scale the heights of those artists. Generally it plays as too safe, and the stakes don't feel very high. Where there aren't challenges and forward movement, an album can only portray so much emotion. There is a lack of contrast in the album that results in monotony; it feels as though Westerman focused too much of his energy on creating one complete entity, ending up with certain tracks that are indistinguishable from each other.  
While Your Hero Is Not Dead contains some similarities with Westerman's past work, the tempo and cohesion of the album overall are more uniform. Unfortunately, for the first half of the album this cohesion is too strict, so much so that the record feels rather flat. About halfway through, when 'Easy Money' comes in, listeners are treated to something a bit more lively and diverse. It is followed by 'Blue Comanche', the best song on the album. 'Blue Comanche' implies an emotional journey for both the artist and listeners over a sweeping song that stands out here. Whether or not listeners stick around to see where that journey might lead us next remains to be seen.
New monthly memberships available
Here's a new thing: our membership scheme now has a pay-monthly option, plus a load of exciting new digital stuff for people who support what we do. It's actually excellent value, honest, and will help us continue to promote new independent artists and labels.
Sign up and you'll receive our physical magazines delivered to your door, our digital editions, exclusive podcasts and playlists and access to our EXTREMELY glamorous Members Lounge. You'll be the envy of all your friends.