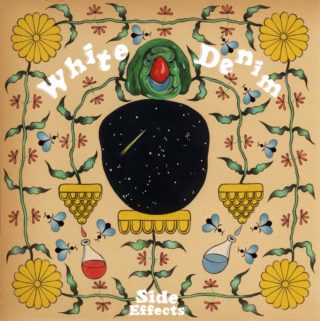 White Denim
Side Effects
6/10
Austin rockers White Denim wasted no time returning to the studio after rediscovering their groove on last year's 'Performance'. Loosely steered by vocalist James Petralli, their ninth LP 'Side Effects' brings together a long list of contributors in a careening attempt to capture the fizzing energy of a White Denim live show.
The album makes its intentions clear when 'Small Talk (Feeling Control)' bursts out of the gate, impatient to show off its brazen '70s-inspired riffs and vocals. Petralli delivers a barrage of one-line metaphors on 'Hallelujah Strike Gold', a turbulent track marked by distorted vocals and saxophone squeals. Electronic twitches build a sense of paranoia on 'Shanalala', before the near seven-minute-long 'NY Money' signals a moment of reflection. By far the longest track on an otherwise frenetic album, it achieves depth with spacious guitar lines inspired by the band's time on tour with The War On Drugs.
The album's busy feel is effective on some tracks: bubbling acoustic instrumental 'Out of Doors' is full of life, while 'So Emotional' pinballs until it finally settles on a groove around a one-note bend. Ultimately, though, 'Side Effects' lacks cohesion as a result of the sheer number of ideas jammed into it. Committed fans will appreciate the live feel of psychedelic instrumental 'Reversed Mirror', but the repetitive 'Head Spinning' adds little to the album's arc. White Denim can still intrigue, as proven by the choppy funk of final track 'Introduce Me'. Their keenness to do everything at once, however, holds them back on this undeniably fun ride.
Free Protomartyr flexi disc with this month's magazine
Subscribers to Loud And Quiet now receive a limited edition flexi disc of a rare track with their copy of the magazine
This month's disc is from Detroit punk band Protomartyr