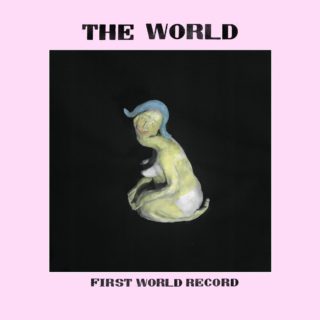 The World
First World Record
7/10
Oakland five-piece The World's debut album jolts and jumps along to off-kilter drum beats and saxophone hooks for the entirety of its play time. The band's wedding of metallic postpunk with matter-of-fact vocal chit-chattery works to create the uniquely propulsive sound honed so tightly on 'First World Record.' The follow up to The World's debut EP, 'Managerial Material,' 'First World Record' is in equal parts a darkly comical full-length floor-filler and a revolt; a flick of two fingers to consumerism and the 'culture muck' that is the millennial preoccupation with all things meaninglessly faddish.
These sentiments, best expressed in opener 'Hot Shopper' as it blisters for just under two minutes and sarcastically goads from its first line ('You're so hot / When you shop'), run throughout the LP's 12 tracks seamlessly and ceaselessly. It's an intense mix of lo-fi pop and DIY nearly jazz, full of anxiety and also anxiety-inducing – a cry for depth in a world that is fast becoming an echo-chamber for the self(ie)-obsessed.
Loud And Quiet could do with your help
We love making Loud And Quiet – our magazines, this website, our podcasts and more – but it's become increasingly difficult for us to balance the books.
If you're a reader who'd like to help us keep the show on the road, please consider becoming a Loud And Quiet member. There are options to receive our physical magazines and lots of other extras that are exclusive to our supporters.