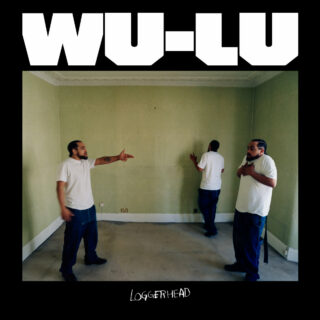 Wu-Lu
LOGGERHEAD
(Warp)
9/10
Brixton producer and songwriter Miles Romans-Hopcraft has been a part of London's many music scenes for the best part of a decade, but now is the moment for his full-length Warp debut. Under his Wu-Lu moniker, Romans-Hopcraft has become synonymous with his genreless musical mutations – rich vignettes of abstract hip-hop coexisting with skate-punk, while DIY sound collages writhing beneath vigorous breakbeats. Early EPs hinted at a world wholly Wu-Lu's own, and LOGGERHEAD unlocks a totally singular universe. 
Musically and emotionally, a lot of ground is covered throughout. Erratically, it darts from abstract textures, unfocused production daydreams, to wild-eyed instrumental escalations and visceral lyrical passages that tackle the issues at the very forefront of Romans-Hopcraft's mind. Often his focus is on the communities he's grown up with, which are rapidly being destroyed by a compassionless city, and how that's affected the lives and minds of the youth – indeed, echoes of "I don't want to see your mental health go to waste" run through the mind long after the album's stopped spinning.

In that sense, lead single 'South' remains Wu-Lu's mission statement. A venomous anti-gentrification brawler, a grizzled acoustic stomp and screamo breakdown are complimented by a lightning verse by rising rapper Lex Amor. Amor is scathing in her bars and fiery with her tongue: "Ever seen a city burn alert? You learn to worship the dust."
Indeed, it is through collaboration that LOGGERHEAD comes into its own. A thunderous performance from Black Midi's virtuoso drummer Morgan Simpson beneath squalls of '90s guitar feedback gives 'Times' an epochal quality, whilst hypnagogic vocals from French singer-songwriter Lea Sén gives 'Calo Paste' a real Dean Blunt decadence. 
The whole album squeezes so many wild ideas into its grooves, but master scientist Wu-Lu pulls off every experiment with aplomb. The cluttered vortex of disembodied vocals and malfunctioning electronics on 'Road Trip' is a real highlight, and too is the vivid hauntological netherworld that Romans-Hopcraft finds himself wandering through on 'Facts'. LOGGERHEAD is the product of a music obsessive skilled enough to work all of his favourite sounds onto one album, a crucial document of a special artist.
Free Protomartyr flexi disc with this month's magazine
Subscribers to Loud And Quiet now receive a limited edition flexi disc of a rare track with their copy of the magazine
This month's disc is from Detroit punk band Protomartyr