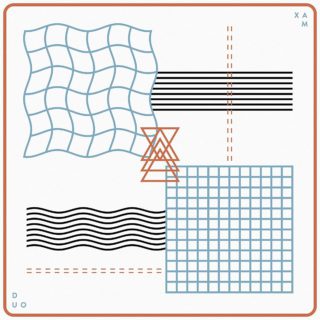 After 2015's 'Tone Systems', XAM (MB from Leeds psych band Hookworms) has now multiplied into a duo (by adding Christopher Duffin of Deadwall, also of Leeds) and in doing so has taken the improvised modular synthesiser output of the first release and morphed it into something far richer and more expansive.
The textures here are deeper and much more capacious, the gently bubbling modular synths float and sparkle underneath breathing fogs of ambience, haunting drones and dense blasts of saxophone. It often goes deep, with three of the album's six tracks making up almost an hour by themselves, but it always feels exploratory and never stagnant, and for an album of improvisational pieces it displays remarkable lucidity and feels poised and collected despite the clear ambition and density of the work.
In the midst of the most elongated moments – as on 'I Extend My Arms Pt I & II' – it creates an enveloping presence, wrapping and sucking the listener into its swirling sonic tornado in a forceful yet warm embrace.
All this results in 'XAM DUO' being, despite what you might be thinking, a very human and tender album in parts, yet in others it feels otherworldly and cosmic in its sci-fi-tinged explorations; a sort of space-jazz Cluster. Ultimately though, it's a record that remains consistently transfixing and absorbing until the dying squawks of the synthesisers.
We're not being funny...
… but can you become a member please?
It's actually excellent value, and will help us continue to promote new independent artists and labels.
Sign up and you'll receive our physical magazines delivered to your door, our digital editions, exclusive podcasts and playlists and an actual bookmark, as if printing a magazine in 2021 wasn't old fashioned enough.
6-month and full year memberships are available now. Fancy it?