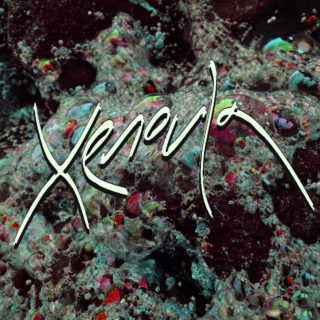 Xenoula isn't afraid of an out-there concept. Skim the Youtube description for her 'Chief of Tin' video and you'll discover that in that guise, "Xenoula is a female, silver-skinned, humanoid octuplet. 9,000 years ago, she was sent to Earth on a comet from the edge of the solar system, where beings like her have lived on the Oort cloud for millennia." The words continue well beyond that, bordering on a "In a galaxy far, far away…" space-themed manifesto, but in the context of the video itself – think an alien Mighty Boosh with more black goo and moss – it connects. But without that vivid imagery and odd narrative, the connection becomes more clouded and complicated to capture on record.
Xenoula's transient background makes her commitment to the chameleonic sounds of her debut album understandable, and amidst the shape-shifting layers and occasionally shadowy electronica, there're subtle shades of the elemental songs of her South African upbringing in the rhythms of nature on 'Dawn Bunny' and 'Toraroi' – and a futuristic, flower child spirit to 'Leyline Ogres'.
Signed to Domino imprint Weird World, Xenoula seems intent on creating exactly that. But where she finds some success reconciling all of her creative personas, as well as blurring styles and genres, for large parts of the album she doesn't so much as weave through the divide as fall through the cracks entirely.
Take the skewed acoustic funk of 'Luna Man' sitting alongside the abstract electro of 'Deer Ron'; the Xanax brain fog of 'Honey Priest' contrasting against the New Young Pony Club-esque sass of 'Caramello' and that collective non-committal ultimately becomes the most challenging part of the album.
The desire to surprise with each track is a noble ideal but when Xenoula picks a lane she gets it right on 'She Ghosts'' Fever Ray ode before 'Alauda' half veers towards similarly haunting Zola Jesus and iamamiwhoami territory without ever fully embracing that dark bloom.
Unable to consistently find a balance between that off-beat pop sensibility and gloomy intensity means that while Xenoula seems happy weaving between the two, her high-concept creativity gets stretched thin across these 11 tracks.
Still, when you announce your arrival in "a space capsule, then wander around a rain forest like some kind of alien litter picker" as we noted around the release of 'Chief of Tin', working out how to top that ten more times is a tall order. And while Xenoula's talent or ambition isn't in doubt, her higher state of consciousness needs some equally high definition to become truly compelling.