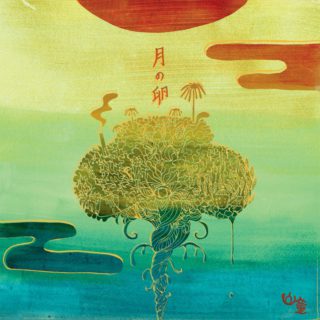 Yama Warashi's lead single 'Quagmire Moon' is all about the moon getting pissed off with smoke from a chimney, which probably says all anybody needs to know about the Anglo-Japanese Bristolian sextet (whose Japanese moniker translates as a "small child-like spirit which lives in the mountains," by the way).
By turns liltingly folky and malevolently unhinged, debut LP 'Moon Egg' has its fair share of whimsy but works best when it indulges the dark side of bandleader Yoshino Shigihara, who alternates between her native language and heavily-accented English. The jaunty opening title track is pleasant enough and takes its cues from Japanese folk dance music – Bon Odori – but it's more intense passages like the guitar wig-out on 'Funa Uta' and the Mahavishnu Orchestra-style coda to 'Spring Tide' that push this record beyond novelty art project status and into the realms of fascinating listening.
"Moon Egg is being kept warm and will hatch soon," says Warashi on spoken word piece 'Tsukino Tamago'. Do make sure to bear witness.
New monthly memberships available
Here's a new thing: our membership scheme now has a pay-monthly option, plus a load of exciting new digital stuff for people who support what we do. It's actually excellent value, honest, and will help us continue to promote new independent artists and labels.
Sign up and you'll receive our physical magazines delivered to your door, our digital editions, exclusive podcasts and playlists and access to our EXTREMELY glamorous Members Lounge. You'll be the envy of all your friends.